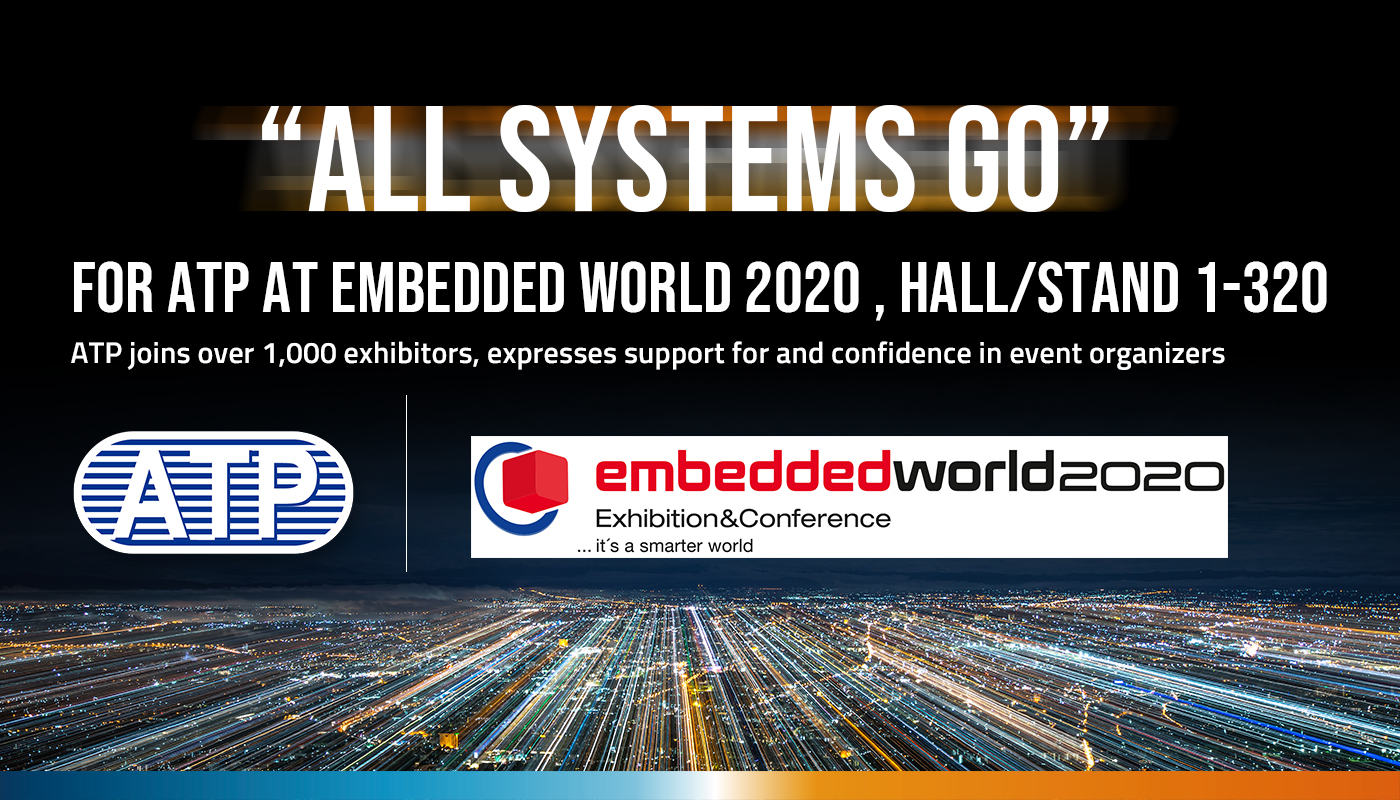 Taipei, Taiwan (March 2020) – With just a few days to go before one of the most important embedded technology exhibitions taking place, ATP Electronics, the leading manufacturer of "Industrial Only" memory and storage solutions, confirms its participation in Embedded World 2020 at Hall 1, Booth 1-320 of Nuremberg Exhibition Center in Germany from February 25 -27, 2020.
"Every year, we are excited to participate in this big event. We eagerly look forward to showcasing our latest products and meeting with business partners and industry enthusiasts interested in ATP solutions. This year, it's the same. Despite concerns related to the global COVID-19 situation, the mood remains upbeat and the ATP team is confident that Embedded World 2020 will once again provide a fruitful experience for exhibitors and visitors alike," said Marco Mezger, ATP Vice President of Global Marketing.
According to event organizers Messe Nürnberg & AUMA (the Association of the German Trade Fair Industry), "we place the highest priority on the health of our customers and employees alike," citing that three world-leading exhibitions have already been held this year with over 150,000 exhibitors and visitors, without experiencing any health issues.
To assure everyone going to Embedded World 2020, the organizers are exhaustively implementing professional measures in consultation with the German health authorities. "We trust Messe Nürnberg, the organizer of Embedded World tradeshow. In addition, ATP will provide precautionary measures to ensure the safety and health of our guests," Mezger added. "Amid health concerns, ATP continues to live up to its `Industrial Only' skillset and mindset by demonstrating resiliency and reliability even in the most challenging circumstances for memory and storage solutions."
For inquiries, please contact ATP regional sales, distributors, or send an email to Info@atpinc.com.
Media Contact: Kelly Lin (Kellylin@tw.atpinc.com)
Follow ATP Electronics on LinkedIn: https://www.linkedin.com/company/atp-electronics
For more information on the product, visit: https://www.atpinc.com/
==========
About ATP
ATP Electronics is the leading provider of "Industrial Only" NAND flash products and DRAM modules for demanding industrial/automotive applications requiring the highest levels of performance, reliability and endurance. A true manufacturer for over 25 years, ATP manages every stage of the manufacturing process to ensure quality and product longevity, offering in-house design, testing, and tuning from component to product level. For more information on ATP Electronics, please visit www.atpinc.com or contact us at info@atpinc.com.