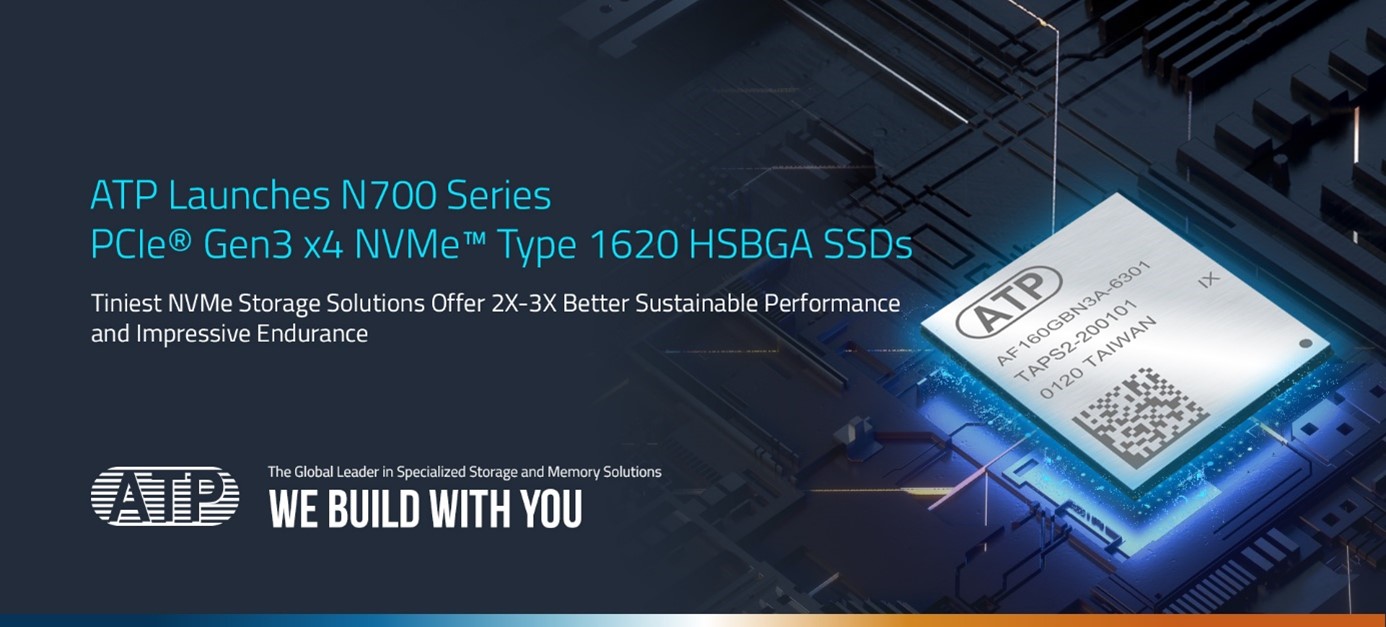 Taipei, Taiwan (April 2021) – ATP Electronics, the global leader in specialized storage and memory solutions, has announced the launch of its tiniest NVMe flash storage offering: the N700 Series PCIe® Gen3 x4 NVMe™ solid state drives (SSDs, which are available as M.2 Type 1620 heatsink ball-grid array (HSBGA) package.
Complying with M.2 specifications, the M.2 Type 1620 HSBGA measures just 16 (L) x 20 (W) x 1.6 (H) mm, supporting high-speed PCIe 3.0 interface x4 lanes and NVMe protocol to deliver up to 32 Gb/s bandwidth at 8 Gb/s per lane. The soldered-down design makes them vibration-proof, while the 291-ball packaging takes up minimal space within tightly confined systems.
For customers who prefer a removable and field-replaceable design, ATP can accommodate the HSBGA onto an M.2 2230 module with the same firmware and NAND configuration. Both variants are suitable for thin and light systems in embedded, industrial and mobile applications.
N700 Series SSDs are built with 3D triple-level cell (TLC) configured as pseudo single-level cell (pSLC) NAND flash. By storing only one bit per cell, they increase the reliability and endurance of the NAND flash memory, while benefiting from the lower cost compared with native SLC, due to the higher cell density.
These SSDs are outfitted with a heatsink on top, which complements system airflow to enhance heat dissipation and keep the BGA SSD cool while offering 2X-3X better sustainable performance.
The optimized power consumption of just 5 mW during Power State 4 (Sleep Mode) translates to big power savings.
BGA SSD technology allows the NAND flash and controller to be integrated into one package that is lightweight yet offers powerhouse performance and ample capacities. N700 Series SSDs come in 40/80/160 GB and are packed with advanced features to meet the ultra-portability and reliability requirements of ultra-compact Internet of Things (IoT) devices and embedded systems. They provide high-speed reliable storage in harsh environments such as in transportation, aerospace, smart factories, mining operations, steel fabrication and more.
N700 Series SSDs are available in both C-Temp (0°C to 70°C) and I-Temp (-40°C to 85°C) ratings. They all undergo rigorous tests, such as Rapid Diagnostic Testing (RDT), to screen out weak blocks and ensure reliability and robustness even in extreme operating conditions.
N700 Series Key Features
pSLC Mode. Configured to store only one bit per cell to increase endurance and reliability, offering 2X-3X sustainable performance.
Stable Performance. The ATP Optimized Thermal Throttling firmware (FW) will maintain the "Steady State" condition to avoid huge performance drops that will adversely impact the system, thus optimizing best performance for application requests and enhancing overall sustained performance.
Optimized Power Consumption. Consuming low power at only 5 mW under Power State 4 (Sleep Mode), the ATP NVMe HSBGA SSDs deliver huge power savings.
DRAM-Less Configuration. Host Memory Buffer (HMB) support helps these DRAM-less SSDs to improve performance by obtaining DRAM resources as cache, thus overcoming the limited memory capacity within the storage and optimizing I/O performance without requiring the SSD to bring up its own DRAM
Vibration-Resistant Storage. ATP N700 Series SSDs in M.2 Type 1620 are soldered down, making them vibration-resistant and able to withstand rigorous shaking.
Better Thermal Dissipation. The heatsink effectively transfers heat to cool the device and keep the performance at optimal levels.
Optional Security Features

HW Write Protect
HW Quick Erase
HW Secure Erase
SW Data Sanitization (AFSSI-5020)
AES-256 Encryption
TCG Opal 2.0
N700 Product Specifications
Product Name

HSBGA M.2, Type 1620

Product Line

Premium

Naming

N700Pi

N700Pc

IC Package

291-Ball, HSBGA

Flash Type

Pseudo SLC

Density*

40 GB, 80 GB, 160 GB

Performance**

Sequential Read up to (MB/s)

2,000

Sequential Write up to (MB/s)

1,700

Random Read IOPS (4K, QD32)

95,000

Interface/Protocol

PCIe Gen3 Interface, x4 Lanes NVMe 1.3

Operating Temperature (Tcase)***

-40°C to 85°C (Industrial)

0°C to 70°C (Commercial)

Endurance TBW**** (max.)

4280 TB

Reliability MTBF @ 25°C

>2,000,000 hours

Dimensions: L x W x H (mm)

16 x 20 x 1.6
* Full user capacity SLC Mode
** All performance is collected or measured using ATP proprietary test environment, without file system overhead.
*** Case Temperature, the composite temperature as indicated by SMART temperature attributes.
**** Under highest Sequential write value. May vary by density, configuration and applications.
Media Contact on the Press Release: Kelly Lin (Kellylin[at]tw.atpinc.com)
Follow ATP Electronics on LinkedIn: https://www.linkedin.com/company/atp-electronics
==========
About ATP
ATP Electronics ("ATP") has dedicated 30 years of manufacturing excellence as the premier provider of memory and NAND flash storage products for rigorous embedded/industrial/automotive applications. As the "Global Leader in Specialized Storage and Memory Solutions," ATP is known for its expertise in thermal and high-endurance solutions. ATP is committed to delivering add-on value, differentiation and best TCO for customers. A true manufacturer, ATP manages every stage of the manufacturing process to ensure quality and product longevity. ATP upholds the highest standards of corporate social responsibility by ensuring sustainable value for workers, the environment, and business throughout the global supply chain.For more information on ATP Electronics, please visit www.atpinc.com or contact us at info[at]atpinc.com.