ATP's 3D NAND Flash Storage Products Tout iTemp Support, Higher Densities, Longer Endurance and Better Reliability
Digital data is growing at explosive rates. The world is expected to generate 10 times more data by 2025 than it did two years ago. As 2D (planar) NAND scaling nears its technological limits while the global datasphere keeps expanding, demand for 3D NAND will have nowhere to go but up. Flash storage products based on 3D NAND technology are already displacing traditional hard disk drives (HDDs) in enterprises, data centers, and client storage today.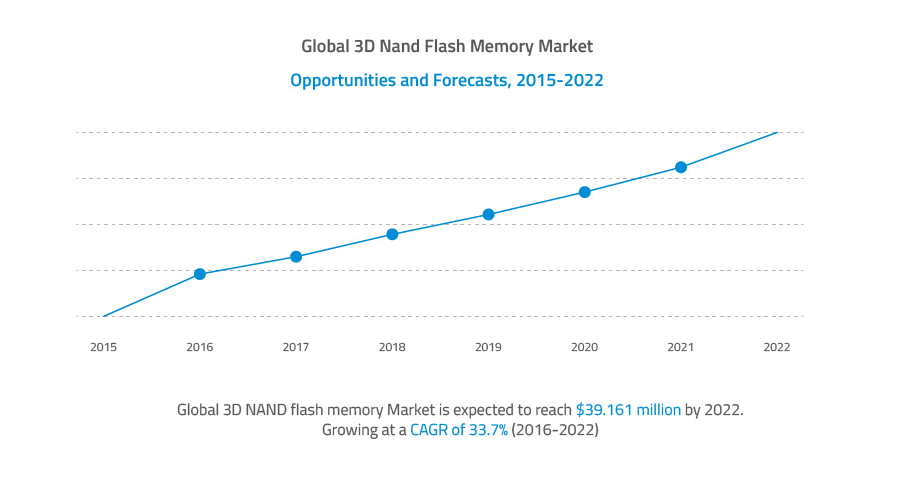 Figure 1. According to the 3D NAND Flash Memory Market Report published by Allied Market Research, the global 3D NAND market will reach over $39 billion by 2022, with a compound annual growth rate (CAGR) of 33.7% from 2016-2022.
(Source: Allied Market Research)
Widespread deployment in these sectors is driven by the following 3D NAND advantages:
Higher Densities per Die. Changing the NAND architecture from planar to 3D allows for a new paradigm of scalability and solves memory capacity limitations, delivering higher storage density without increasing footprint, and resulting in generally lower cost per bit.​

​


Figure 2. As planar (2D) NAND's process nodes become smaller, the cells become prone to leaking electrons, resulting in fewer and fewer electrons trapped in the cell. In contrast, 3D NAND enables higher densities with die stacking, maintaining the consistent number of electrons and resulting in higher reliability.​

​

Higher Endurance.

In 2D NAND, die densities were increased with process shrinking, leading to reduced endurance at the cell level. More specifically, cells were squeezed closer together, which meant high cell-to-cell interference and fewer electrons per level. 3D NAND has generally allowed for the relaxation of the NAND lithography and scalability achieved through stacking, thus reducing cell-to-cell interference and increasing drive reliability and endurance.


Figure 3. Decreased interference between cells in 3D NAND leads to higher endurance.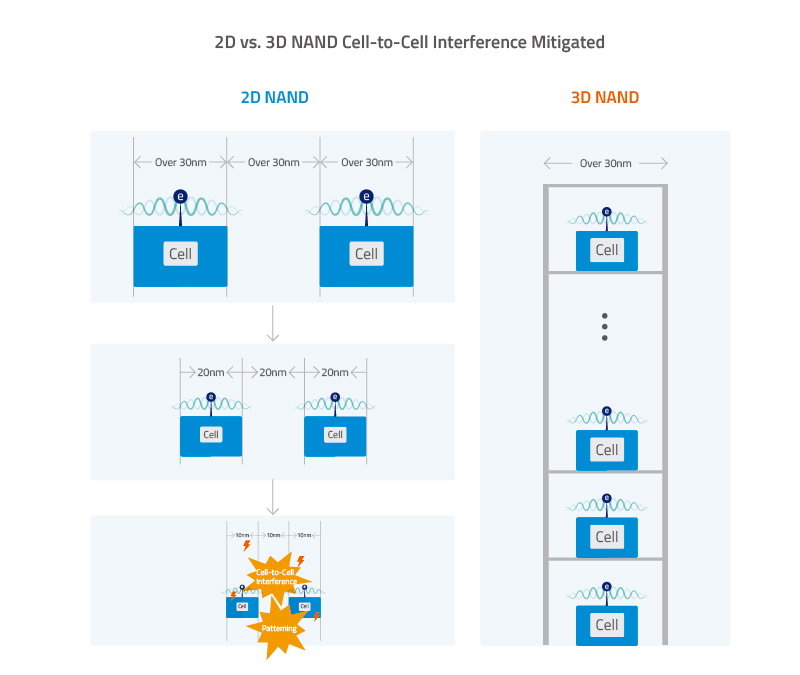 Figure 4. A closer look at how 3D NAND ushered in a paradigm shift in scalability and cell structure. Unlike the process shrinking in 2D NAND that leads to cells squeezing closer together, 3D NAND's relaxed lithography prevents cell-to-cell interference.
​
​
Enhanced Data Write Performance.
3D NAND accelerates processing of larger data structures at newer NAND input/output (I/O) industry standards, providing the potential for up to 2X faster performance compared with 2D NAND technology.
Technology

2D NAND

3D NAND

Image

Capacity

Max. 128 GB

Currently up to 1 TB
(Space for future increase)

Design

Floating Gate

Floating Gate or Charge Trap

Industrial Temperature Support

Available

Available

Performance

Slower

Faster
Table 1. Summary of 2D and 3D NAND Flash Features

Considerations for 3D NAND Deployment in Industrial and Embedded Applications
Industrial and embedded applications can surely benefit from 3D NAND's endurance, capacity and performance boosts. However, since these applications have a more diverse scope of usage cases and have more stringent reliability requirements while operating in harsh environments, the deployment of 3D NAND for industrial and embedded applications must be carefully considered in the light of other important factors.
"3D NAND is enabling larger and faster storage capacities; however, speed, capacity and performance are not the only considerations for industrial applications. We need storage that is extremely reliable and characterized for the intended usage case to deliver long years of dependable operation in the toughest conditions," said Marco Mezger, ATP Electronics Vice President of Global Marketing.
Reliability over Industrial Temperature



In industrial and embedded applications, devices operate in demanding conditions, handling application-specific workloads for extended periods of time where temperatures swing from extremely cold to extremely hot.
ATP 3D NAND-based products already in mass production currently utilize Micron floating gate architecture, a proven technology suitable for industrial temperature and other environmental reliability requirements, making it the ideal solution for industrial and embedded applications that typically have to withstand fluctuating temperatures from -40°C to 85°C. Stringent tests in sustained low, sustained high and cross-temperature profiles have characterized reliability in terms of endurance, various data patterns, and data retention. These characteristics are then utilized in mass production screening processes to ensure total device dependability in a wide range of field operating conditions. ATP 3D NAND flash products provide wide temperature, outstanding reliability and data retention for industrial and embedded applications.
ATP is also currently in development on 3D NAND-based products which utilize charge trap NAND architectures. Future product lines will either be based on floating gate 3D or charge trap 3D solutions, with usage recommendation differentiated by application requirements.
Device Densities



How much storage do industrial and embedded systems actually need? Data storage administrators must implement effective capacity planning in order to allocate budgets for resources that their organizations need and will actually use. With its bigger capacities and lower cost per bit, 3D NAND cost effectiveness is pronounced at higher densities with the majority of 3D NAND mass production starting at 32 GB in a single NAND die. Though many industrial and embedded applications still use lower storage densities than enterprise and client, breakthrough capacities made possible by 3D NAND technology make it ideal for applications requiring high-density mass storage.
According to Mezger, "ATP meets the diverse storage requirements of industrial and embedded applications by introducing 3D NAND into higher-density devices in a variety of form factors and performance capabilities while continuing to produce and offer industrial-grade storage devices in lower densities with 2D NAND."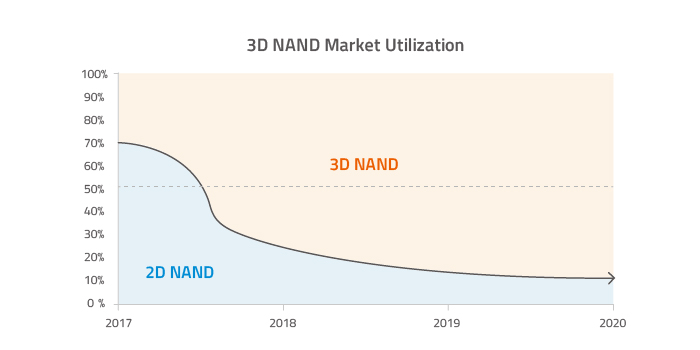 Figure 5. Worldwide 3D NAND adoption is growing. 3D NAND is being utilized in higher density devices, typically 128 GB and higher for embedded SSDs and 64 GB and higher for removable storage.
Data Structure Size

The usage case or workload, including factors such as data type/size, read/write-intensity, sequential/random access, command queueing, etc. should generally be carefully considered when choosing the right NAND technology for industrial applications.
3D NAND has the advantage of enabling higher die densities and larger capacities; however, given the nature of flash memory, 3D NAND remains organized in pages and blocks, and with generally much larger data structures. In any change from 2D to 3D, usage cases should be re-characterized as drive level efficiency including characteristics of throughput, write amplification, and cache utilization will likely be different when changing between 2D and 3D NAND storage. This is even more significant than in previous data structure changes between 2D NAND process nodes.
ATP's 3D NAND Optimized for Industrial and Embedded Applications

The inevitable widespread adoption of 3D NAND in industrial and embedded applications gives ATP the opportunity to showcase its over 25 years' expertise as a leading industrial storage manufacturer.
Advanced Self-Packaging Capabilities
ATP manufactures its 3D NAND flash products in its own purpose-built factory, demonstrating its advanced capabilities to handle critical and challenging processes such as deposition and etching. ATP meets the market's demand for varied, large-capacity products by offering its innovative 3D NAND packaging for different configurations. ATP's high-end manufacturing facility is capable of processing NAND wafer dies into ATP's own single/dual/quad/octa and even high-density die ball-grid array packages (SDP/DDP/QDP/ODP/HDP BGA). This significantly simplifies supply chain planning and results in higher flexibility and better lead times.
Charge Trap in the Pipeline
Plans are underway to offer Charge Trap-based 3D NAND products for applications requiring higher endurance and throughput performance requirements.
Improved Endurance and Reliability

Advanced mechanisms ensure longer drive usage life for many years of reliable performance. By conducting stringent industrial temperature tests, ATP's 3D NAND products with industrial temperature ratings (-40°C to 85°C) can withstand environmental asperity. ATP PowerProtector provides advanced power protection to ensure data integrity during a power failure. ATP AutoRefresh and Dynamic Data Refresh check not only error bits but also read counts in both frequent and seldom-read areas to prevent data corruption and to avert the risk of data loss due to read disturbance and data retention issues.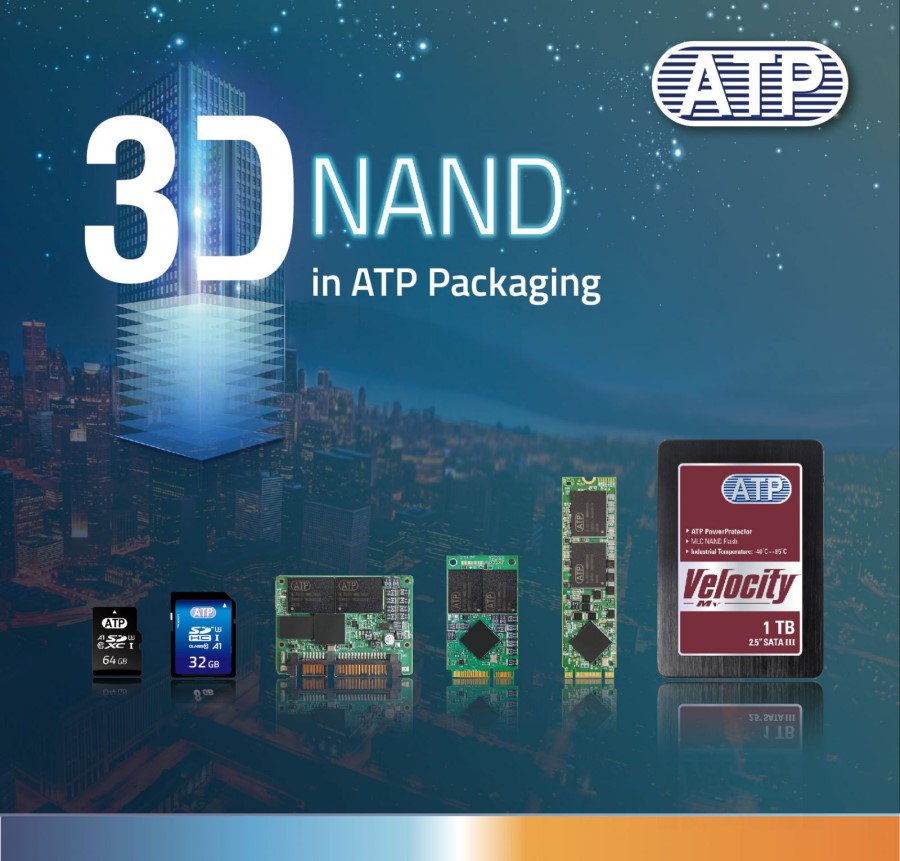 Figure 6. Industrial temperature-rated ATP flash products based on 3D NAND technology are designed and built for rigorous industrial and embedded applications.
Conclusion
3D NAND is gaining wide implementation in enterprises, data centers, and client storage today. This innovative technology breaks the limitations of 2D planar NAND, enabling storage at higher densities, endurance and performance.
In the industrial and embedded sectors, ATP's 3D NAND solutions are gaining traction, not only for the aforementioned benefits, but also for their tolerance to wide temperature ranges and their excellent data retention capabilities. As 3D NAND continues to change the storage landscape, ATP's IC screening, stringent testing, and manufacturing capabilities ensure that 3D NAND solutions meet the reliability requirements of industrial and embedded applications.
For more information on ATP's 3D NAND solutions, visit the ATP website or contact an ATP Representative/Distributor.