Product Line Naming Rule
Flash Products Naming Rule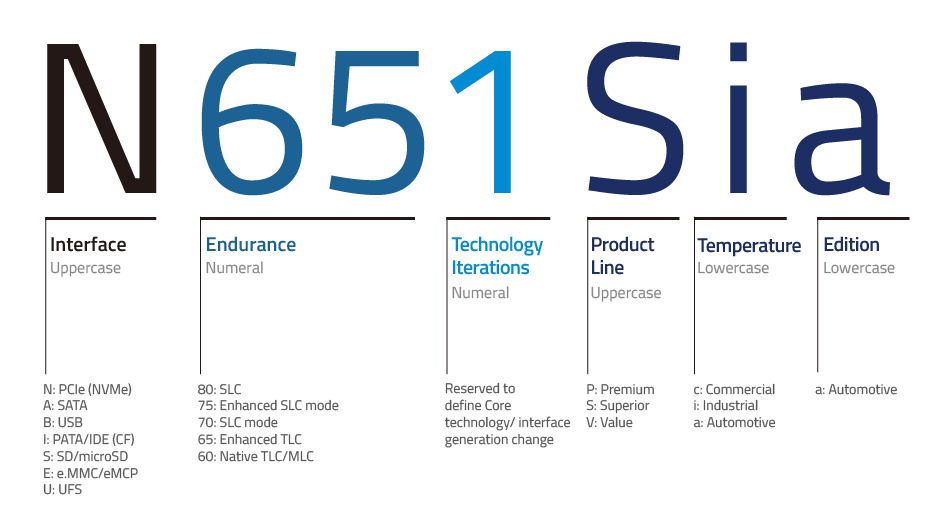 Flash Product Line & DRAM Introduction
Premium Line
The ATP Premium Line consists of mass storage solutions built for uncompromising performance, maximum dependability, and exceptional endurance. Outfitted with best-in-class technologies ensuring the highest levels of reliability, these solutions are hardwired for the most demanding mission-critical applications where system failures or interruptions can significantly impact operations. Unparalleled usage life and brisk write speeds set the Premium Line a cut above the rest. High input/output operations per second (IOPS) ensure consistently high performance, and ATP's power loss protection technology guarantees that data in transit are safely stored to the flash chip in the event of a power loss, thus safeguarding data integrity, averting data loss or corruption, and preventing device damage.
Superior Line
The ATP Superior Line brings together powerful and proven features and technologies for rigorous operations in diverse industries, capably handling mixed workloads with high IOPS requirements. Generous storage densities make these products ideal for data-hungry and write-intensive applications; mid-density drive options offer a wider range of choices for cost efficiency; and, configurable over-provisioning gives users flexibility to make adjustments based on actual workloads for the optimal balance between drive performance and endurance.
Value Line
The ATP Value Line integrates advanced essential solutions to the growing needs of enterprises and industries, offering sustained, reliable performance and consistent reliability. Superb choices as embedded boot or boot image devices, they are ideally suited for Internet of Things (IoT) applications, spurring greater connectivity for homes, cars, medical equipment, and other smart devices. Ample storage capacity is available for installing an operating system with space to spare for other applications.
Automotive Edition
The ATP Automotive Edition consists of tailor-made solutions to meet automotive customers' requirements for maximum data reliability. These solutions undergo the strictest levels of testing and are certified according to automotive-industry standards, including but not limited to IATF-16949 Certification, APQP, PPAP, IMDS, AEC-Q100, product selection/features and joint validation tests depending on project support and according to customer request.
Contact Us