A Primer on Software-Defined WAN (SD-WAN)
Two decades ago, wide area networks (WANs) were designed to link local area networks (LANs) in order to connect physical geographical locations to one another, such as main headquarters and branch offices. Back then, data resided in physical locations like data centers and data movement was made possible through static, hardware-centric networks and expensive leased lines, dedicated fiber or virtual private networks.
Traditional WAN Challenges
As data continues to expand in size and variety, communication needs change and technologies evolve. Today, with the prevalence of the cloud and increased mobility, enterprises and workplaces are increasingly becoming virtual. Data now simultaneously resides in multiple locations, and the Internet has paved the way for a variety of transport protocols available for storing, accessing and retrieving data. In this ever-transforming and complex networked world, global enterprises need viable, less costly, more reliable and better-performing alternatives to traditional WANs.
Some of the most popular corporate WAN standards are multiprotocol label switching (MPLS), Frame Relay and Internet Protocol Security Virtual Private Networks (IPSec VPNs). MPLS is an IP-based protocol for transporting data within the same network. It is expensive, has low bandwidth, beset with performance and reliability challenges, and does not offer total control, as network configuration and traffic routing are done by the provider. Other WAN challenges include limited application awareness, fragmented security, complex operations and no readiness for cloud-based apps.
IDC Research conducted last year showed that the top challenges faced by today's WAN are as follows:
Security requirements relating to web, cloud services and Internet applications
Complexity of multiple transport types, such as MPLS, Ethernet, Internet, leased lines, DSL, 4G/LTE
Managing consistent user experience for on-premise enterprise apps and off-premises cloud applications (SaaS and IaaS)
Simplifying WAN management and connectivity at remote branch offices
Figure 1. Top WAN challenges: Cloud security and rising WAN complexity
Today, a growing number of enterprises require flexibility to use a mix of traditional WAN technologies as well as new and emerging network technologies such as 3G/4G/LTE and broadband Internet as well as to reduce cost, provide better quality of service to apps, get better bandwidth and use cheaper commodity connections.
The Rise of Software-Defined WAN
Although experts point to the early 2000s as the period of SD-WAN's inception, it was not until 2008 that the first reliable SD-WAN solution was made available to the market. As cloud security concerns and WAN management complexity increase, enterprises are considering SD-WAN as a viable option. SD-WAN offers a more flexible solution to hardware-centric WAN by optimizing multiple transport connections such as MPLS, broadband and LTE to intelligently steer traffic across the WAN.
According to the IDC study, SD-WAN adoption is gaining momentum, with 95% of enterprises surveyed already using SD-WAN solutions or intending to deploy SD-WAN solutions within a few months. The same research cites increasing cloud usage as the main driver of WAN technology choice, while the top drivers of SD-WAN adoption are secure cloud connectivity, performance of cloud apps and simplified WAN management.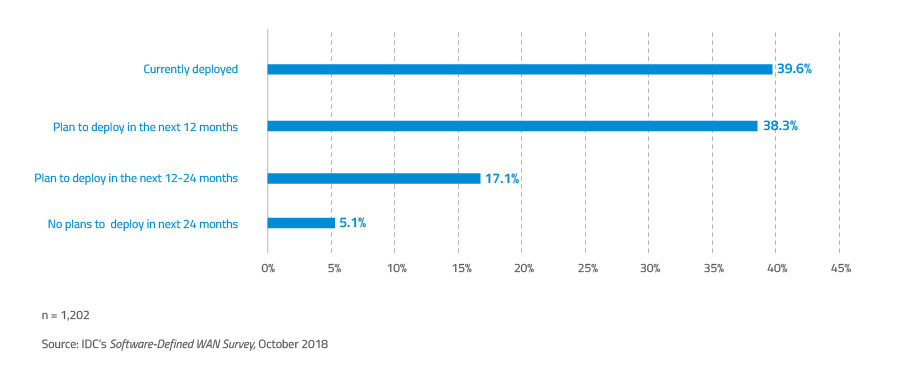 Figure 2: Nearly 40% of companies surveyed by IDC have already deployed SD-WAN solutions,
while over 55% plan to deploy SD-WAN in the coming months.
Why SD-WAN?
SD-WAN technologies transfer the burden of managing network traffic from hardware or physical devices to software. Here are some of SD-WAN's key business benefits:
Centralized control simplifies network management and improves the delivery of services, as it no longer requires managing individual gateways and routers. Complexity is greatly reduced with unified solutions that consolidate a wide range of services.
Enhanced cloud application performance allows the classification and prioritization of the most important and most widely used applications. By being "application aware," SD-WAN solutions can intelligently steer traffic according to user-defined application profiles and service-level agreements (SLAs).
Zero-touch deployment delivers simplified deployment and security by allowing the automatic provisioning and configuration of SD-WAN appliances.
Greater flexibility and agility with multi-connection and multi-transport options, allowing enterprises to select connection types and vendors most suitable for specific application needs.
Higher return on investment (ROI) and lower total cost of investment (TCO) with increased bandwidth at lower costs
SD-WAN Architecture Overview
As its name implies, software-defined WAN uses software to program, configure and centrally control or manage a WAN to intelligently steer traffic across the WAN. It leverages multiple transport protocols to deliver high-speed application performance so enterprises can access applications as well as data quickly and connect branch offices more efficiently at lower costs.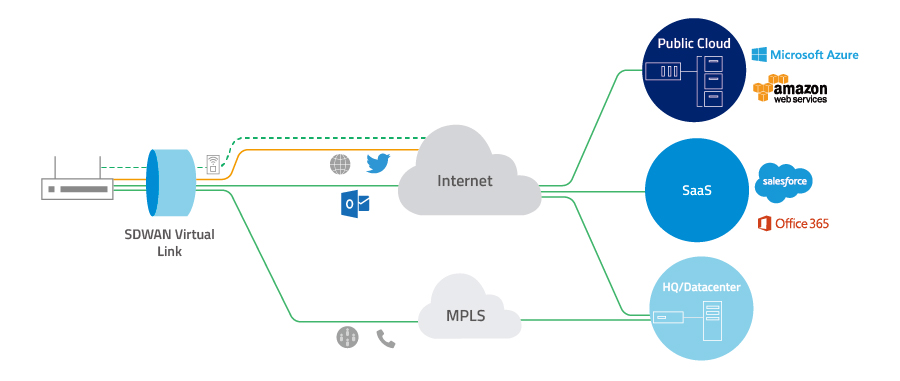 Figure 3. SD-WAN employs multiple transport protocols to simplify network management
and improve network services. (Image source: Fortinet)
By decoupling (virtually separating) the hardware from the centralized control and management mechanisms, SD-WAN improves business agility.
The figure below explains this concept of decoupling.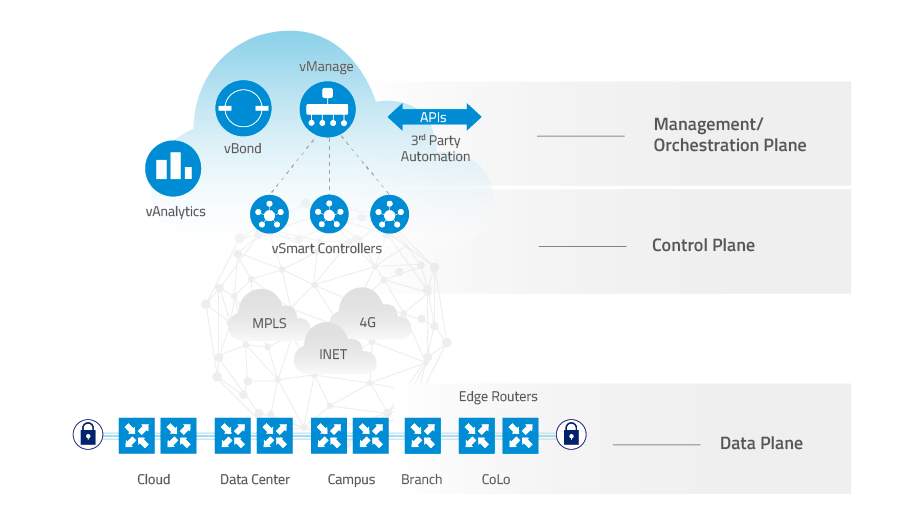 Figure 4. SD-WAN Architecture virtually separates the data plane from the control
and management mechanisms. (Image source: Cisco)
Data Plane – Also known as the user plane, forwarding plane, carrier plane or bearer plane, the data plane is responsible for carrying user traffic, enables data transfers to and from clients, handles multiple conversations through multiple protocols, and manages conversations with remote peers. Data plane traffic travels through routers, rather than to or from them. (Source: SearchNetworking)
Control Plane – Builds and maintains the network topology and makes decisions on where traffic flows. The control plane is the part of a network that carries signaling traffic and is responsible for routing. (Sources: Cisco, SearchNetworking)
Management/Orchestration Plane. The orchestration plane assists in the automatic onboarding of the SD-WAN routers into the SD-WAN overlay. The management plane is responsible for central configuration and monitoring. (Source: Cisco)
SD-WAN Components
The Metro Ethernet Forum (MEF), a nonprofit international industry consortium with over 200 member companies, is spearheading efforts to define, deliver and certify industry technical standards for "agile, assured, and orchestrated services across a global ecosystem of automated networks." It provides an overview of components required to deliver SD-WAN services:
SD-WAN Edge. This could be a physical device or a virtual Customer Premises Equipment (CPE) based on a virtual network function (VNF). Located at the edge (boundary) of the network, it allows internal networks to connect to external networks. It performs other critical functions such as applications-based Quality of Service (QoS), enforcement of security policies and WAN-optimization functions.
SD-WAN Gateway allows sites that are connected via SD-WAN to connect to sites that are interconnected using alternative VPN technologies.
SD-WAN Controller centrally manages physical or virtual devices for all SD-WAN Edges and SD-WAN Gateways.
Service Orchestrator provides the service management of the SD-WAN service life cycle including service fulfillment, performance, control, assurance, usage, analytics, security and policy.
Subscriber Web Portal is typically integrated into an existing customer portal for other managed services. Upon activation of these services, the Subscriber Web Portal communicates with the Service Orchestrator for SD-WAN service modifications such as setting up different QoS, security or business policies based on a user's role.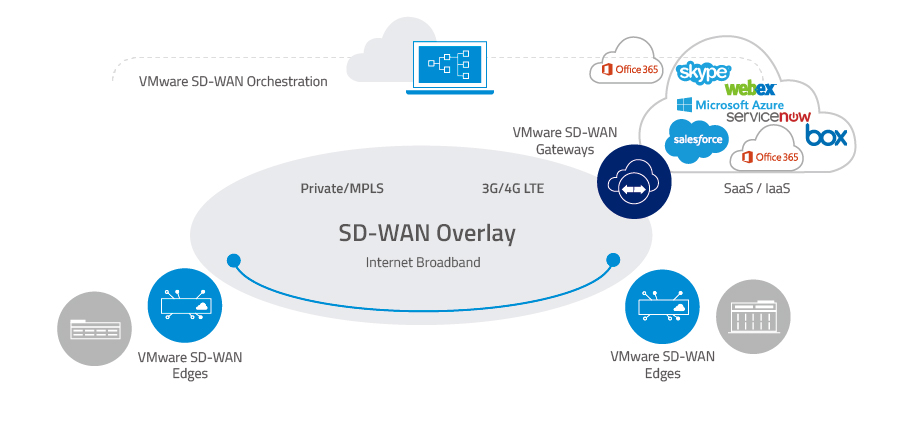 Figure 5. SD-WAN components
Image source: Veloclou­­­d
ATP and SD-WAN
ATP Electronics, the leading provider of "Industrial Only" DRAM modules and NAND flash solutions, is ready to meet the memory and storage demands of SD-WAN edge devices and appliances. ATP products are meticulously designed, expertly built and rigorously tested to deliver the highest levels of performance, reliability and endurance even in the toughest operating environments.
The ATP Edge
ATP's memory and storage solutions are designed and engineered for enterprises to implement SD-WAN with ease and simplicity while assuring utmost reliability, great value and overall best total cost of ownership (TCO).
Purpose-built for ultra-compact appliances. ATP offerings are available in small form factors designed to fit today's space-saving appliances, while delivering big benefits such as reliable performance, extended endurance and secure access to data.
Advanced power management and low power consumption. Using the latest power management technologies, ATP solutions ensure optimized power consumption to deliver huge power savings. For select products, advanced power loss protection mechanisms are onboard to protect data and device in the event of power losses.
Meticulous testing and validation. As a true manufacturer, ATP manages the stages of the manufacturing process and conducts thorough testing from wafer/IC level to module and product level to ensure that only products of the highest quality are produced from its facilities.
Controlled BOM. By maintaining complete control of its supply chain, ATP implements a controlled Bill of Materials (BOM) to guarantee long product cycles and buffer inventories that are aligned with sales forecasts in close coordination with customers to meet long-term supply requirements.
Best TCO value. Reliable performance and extended endurance translate to minimal downtimes, longer service life, less frequent replacements. Overall, these benefits accrue to high returns on investment (ROI) and best TCO value.
SD-WAN memory and storage solutions from ATP are optimized for edge devices, hosted or on-premise cloud gateways, orchestrators and other branch office or datacenter appliances. They are available in diverse form factors, capacities, operating temperature support and customizable features.
ATP MEMORY SOLUTIONS

Generation

DDR4 /DDR3

Form Factor

Non-ECC/ECC SO-DIMM

Density

4 GB / 8 GB / 16 GB / 32 GB

Speed (MT/s)

3200 / 2933 / 2666 / 2400 / 2133 /1866 / 1600 / 1333 / 1066
ATP NAND FLASH STORAGE SOLUTIONS

Form Factor

Capacity

Possible ATP
Product Line

Optional Features

SSDs

M.2 2242 SATA

16 GB / 32 GB / 120 GB / 240 GB

16 GB to 32 GB:

A600Sc (MLC C-Temp)

Power loss protection (PLP) mechanism
Security encryption

120 GB to 240 GB:

A600Vc (3D TLC C-Temp)

mSATA

16 GB

A600Sc (MLC C-Temp)

Managed NAND

e.MMC

16 GB

16GB: E600Si (3D NAND MLC)
Table 1. ATP "Industrial Only" memory and NAND flash storage solutions for SD-WAN.
For more information on ATP's SD-WAN memory and storage solutions, please visit www.atpinc.com or contact us at info@atpinc.com.