Q2 Quarter Intelligence roundup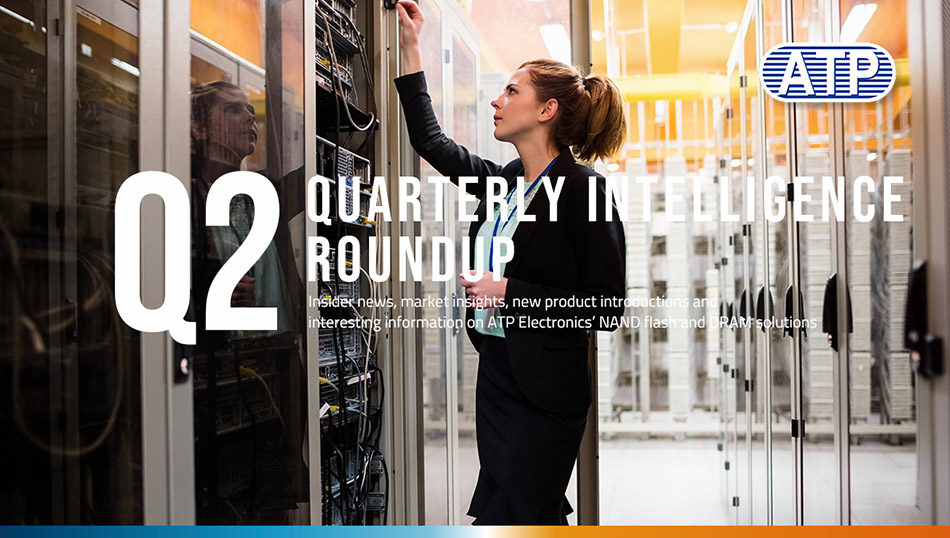 Q2 Quarter Intelligence roundup
Tiny ATP e.MMC with Over 50K Endurance Rating Delivers Huge Benefits for Handheld Computers
The Challenge
Handheld computers are essential productivity tools in several industrial applications that require portability and compact form but with enterprise-level performance and rugged durability. Some of these specialized applications include transportation and logistics, warehousing, manufacturing, retail, postal or parcel deliveries, and more. An ATP customer needed a high-endurance storage device for their rugged handheld computers that aim to improve workflow and boost productivity at low total cost of ownership (TCO).

The Solution
To meet the customer's requirement for the storage device's extended endurance, ATP used its own-designed Rapid Diagnostic Testing (RDT) to filter/characterize the e.MMC according to different criteria based on application requirements. The RDT process began with IC-level characterization beyond JEDEC standards to ensure the reliability of the new die. The design/layout, controller, hardware and firmware were validated at product level using ATP-designed/built testers. Stress accelerants such as temperature, power/voltage and other factors are used to identify qualified/unqualified blocks intended for the customer's specific application needs. Finally, production quality screening ensures the e.MMC's reliability by detecting and removing weak blocks and ICs.

Employing SLC Mode NAND flash also improved the performance, reliability and endurance the ATP e.MMC, thus providing reliable data storage without prohibitive costs. ATP also performed Joint Validation testing to ensure compatibility with the customer's host platform. This consisted of compatibility and function tests with customer-supplied host devices and systems to proactively detect bugs and failures.

The Result
Through stringent RDT testing and the use of SLC Mode NAND flash, ATP successfully achieved an average of 50K P/E cycles to meet the customer's high-endurance requirement. This is significantly higher than the endurance ratings of other standard NAND flash technologies such as 2D/3D MLC (25-30K) and 3D MLC (30-40K). With these achievements, the ATP e.MMC provides excellent performance for the customer's handheld computers at the best TCO value.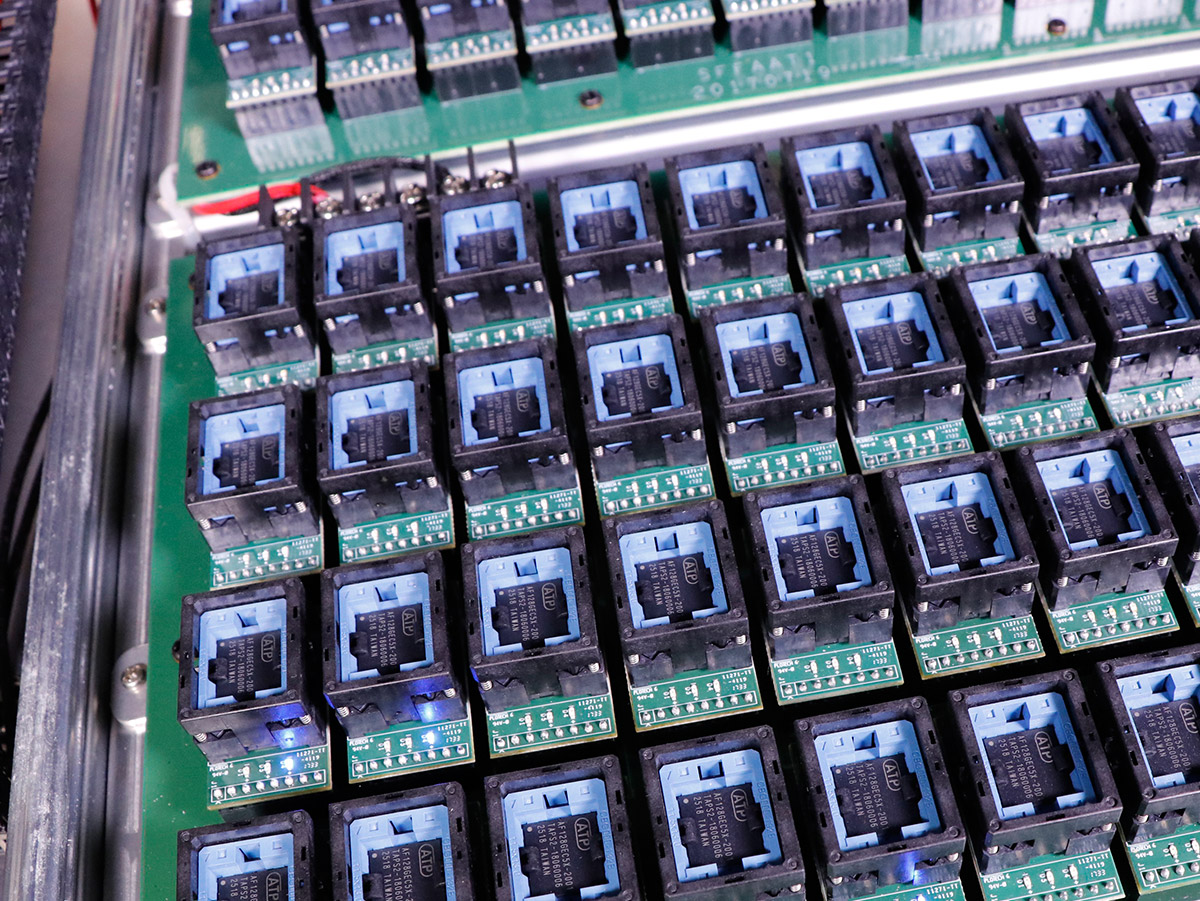 ATP "Industrial Only" Memory Cards Meet Healthcare Applications Demands
The Challenge
The healthcare industry is facing one of its most severe tests in history. As the upside demand for acquiring reliable data storage integrated into medical devices such as ventilators, clinical simulation systems, and electrocardiographs (ECG) continues to escalate, it has become paramount for medical vendors to evaluate partnering with storage vendors, not just for the short-run to combat the current crisis but also envision and plan for what's to come in the post-pandemic new world.

The Solution
ATP Electronics has been supplying the medical/healthcare industry with high endurance, reliable SD cards for the past decade. With ATP's experience and support model in serving a large customer base for the medical industry, this resumé has become one of the pivotal ingredients and serves as the core foundation for ATP to leverage and acquire key materials long term. With ATP's differentiator to plan for materials long-term, this materializes in our ability to offer controlled BOM as well as long-term support to our medical partners. The advantages of long-term supply are clearly evident as it trickles down in our capacity to fulfill recent, urgent demands, such as ventilators in aid to save more lives at the medical frontline.

In addition to long-term supply stability, our production efficiency in initialization, content preload as well as labeling of the SD cards formulates a one-stop-shop that would greatly increase efficiency and minimize wait time for the medical systems to be assembled and implemented into the field.

The Result
Our world will never be the same, and the ability of the medical/healthcare ecosystem to adapt to the new norm will be critical for the well-being of civilization. With ATP's nearly three decades of experience in offering industrial memory, storage solutions, and one-stop-shop to fulfill the demand of data storage to the medical industry, ATP can surely be an integral cogwheel to help shape and create a better world.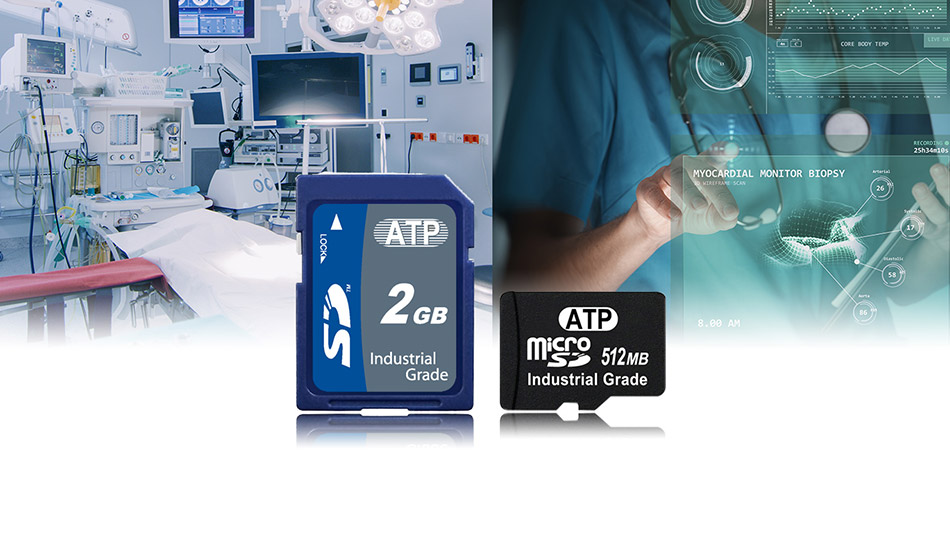 ATP's Power Loss Protection Just Got Smarter with MCU-based SSD Design
The Challenge
Sudden power loss events are detrimental to solid state drives (SSDs). They can corrupt data or render the storage device unusable. While power loss protection (PLP) mechanisms are available on most industrial SSDs, the need for more intelligent power management and power loss protection cannot be underscored enough. ATP customers want constant assurance that power loss events will not cause massive downtime or lost data that could affect business operations and lead to higher operating costs.

The Solution
ATP completely redesigned the PLP array on its next-generation SATA and NVMe SSDs. Integrated into ATP PowerProtector 4, the completely new design of the PLP array utilizes a new power management IC (PMIC) and new firmware-programmable MCU that allow the PLP array to perform intelligently in various temperatures, power glitches and power states.

The Result
The MCU intelligently monitors sudden power failure conditions from a glitch to a surge or a complete outage and performs the necessary action to protect both data and device. Over input voltage protection, power-up inrush current suppression, input power noise de-glitch and fast power on-off control are among the benefits that the new MCU-based design offers to make sure that mission-critical tasks will not be compromised and the customers' total cost of ownership (TCO) yields the best value.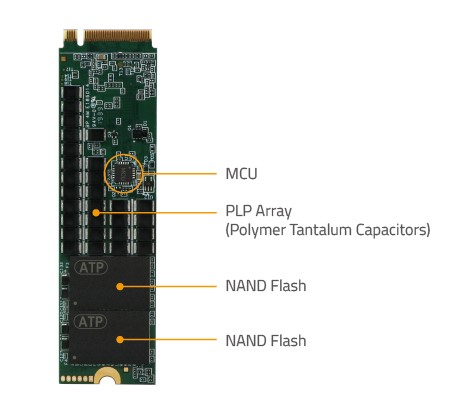 Conformal Coating Protects DRAM Modules from Environmental Challenges of Transport Applications
The Challenge
Whether on land, air or sea, embedded and computing systems for transport applications are constantly subjected to environmental hazards that could damage components and compromise their performance. A company specializing in products and services for the transport industry turned to ATP for rugged and reliable DRAM modules to ensure efficient operations, better safety and enhanced passenger comfort.

The Solution
When DRAM modules are exposed to dust, chemical contaminants, extreme temperatures and moisture, corrosion or short circuiting may result, leading to malfunction. To overcome the challenges of extreme environmental hazards faced by transport applications, ATP uses conformal coating to protect against contaminants and increase the DRAM modules' service life. (Depending on project, ATP DRAM modules can also be built with anti-sulfur resistors.)

ATP's conformal coating solution uses parylene coating technology via chemical vapor deposition (CVD). The coating material, which is compliant with US Military Material MIL-I-46058C and Fire Safety UL94V-0 Certification standards, is placed in a vacuum chamber. Inside the chamber, the coating material is directly vaporized and pyrolyzed into nano-molecular streams. It is then entered into a room-temperature coating chamber to gradually form an even and homogeneous protective film onto the profile of the DRAM module circuit assembly.

The coating completely penetrates spaces as narrow as 0.01 mm, making it totally pinhole-free and truly conformal to shield the DRAM module from dust, chemicals, moisture and other harmful substances.

The Result
ATP "Industrial Only" DRAM modules are purpose-built for industrial applications such as transportation, aviation/aerospace and automotive. The customer is very satisfied with the rugged performance, reliability and long service life of ATP DRAM modules protected with conformal coating.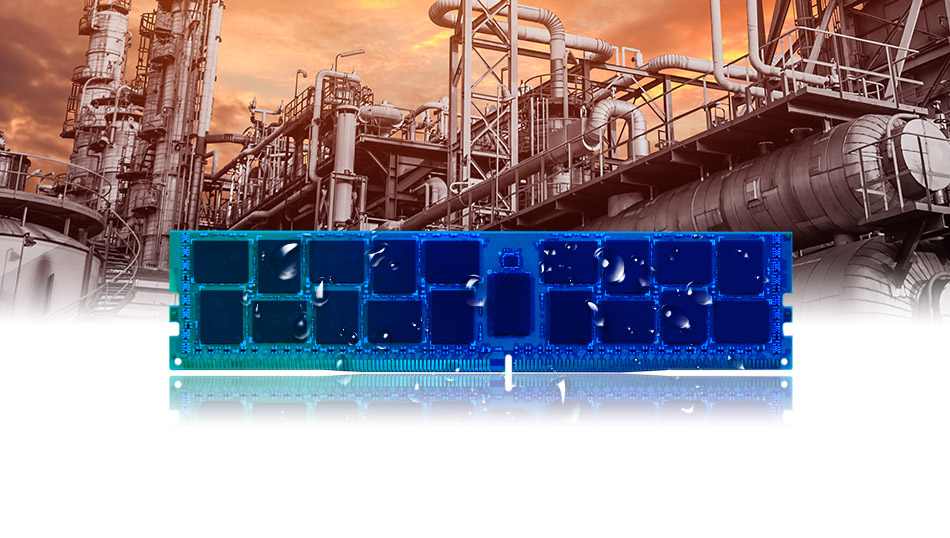 ​