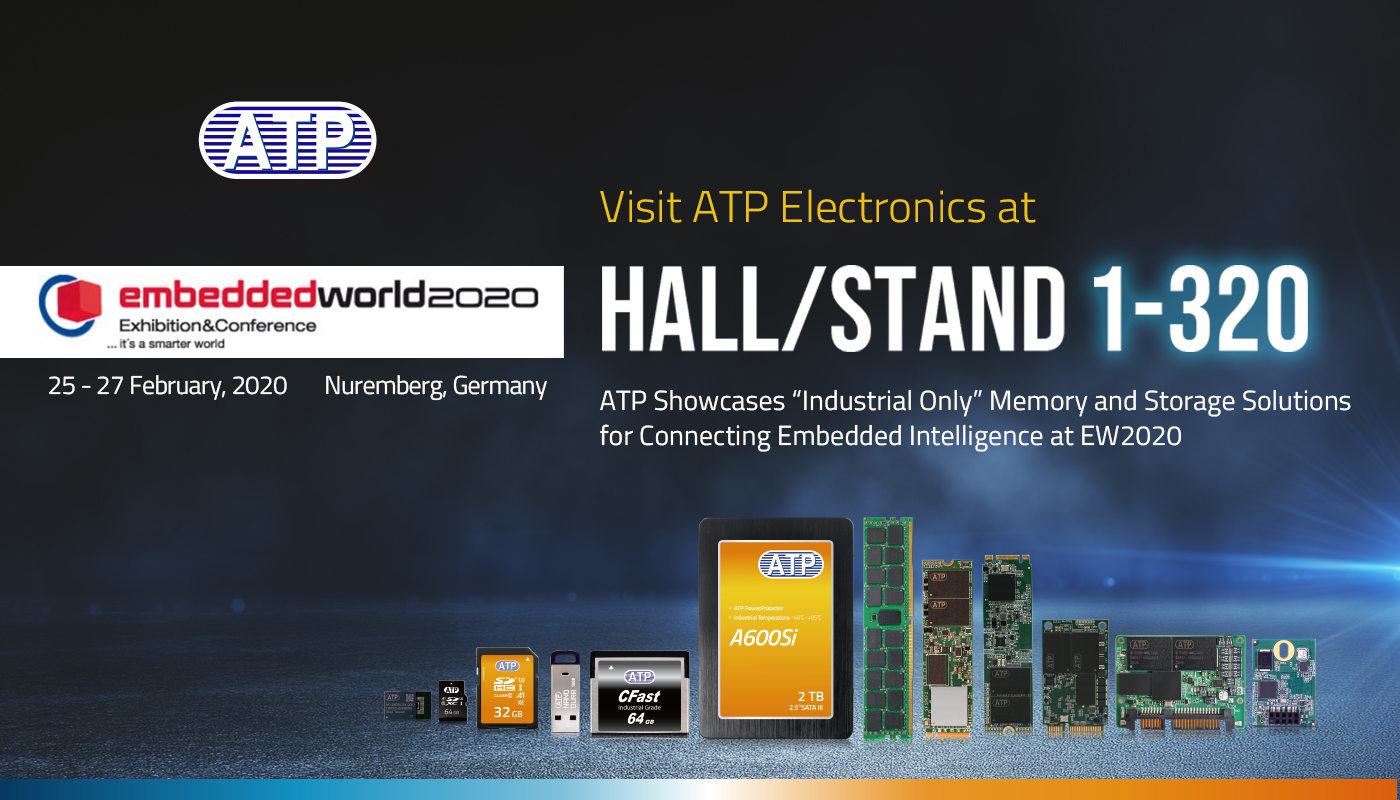 Taipei, Taiwan (Month 2020) – "Intelligent things" are changing the way people live and do business by generating huge amounts of data that provide predictive, proactive and actionable insights. As the Internet of Things (IoT) and its applications in the industrial sector become increasingly pervasive, these physical things with embedded intelligence are connecting to one another to create a massive network of perceptive systems.
ATP Electronics, the leading manufacturer of "Industrial Only" memory and storage solutions, showcases its latest robust and high-performance products for the era of connected embedded intelligence at Embedded World 2020 at Hall 1, Booth 1-320 of Nuremberg Exhibition Center in Germany from February 25 -27, 2020.
"We live in very interesting times—physical things are becoming more intelligent and interacting with one another. The generation of massive amounts of data and the analytics required to make these data insightful and actionable are at the heart of a quiet revolution taking place," said Marco Mezger, ATP Vice President of Global Marketing. "Robust and reliable memory and storage are critically required in these interesting times, and ATP is up to the challenge. No matter where data may be residing, ATP's 'Industrial Only' memory and storage solutions are enabling the connection of embedded intelligence."
Next Gen SSDs with MCU-based PLP Design Deliver Better Data Integrity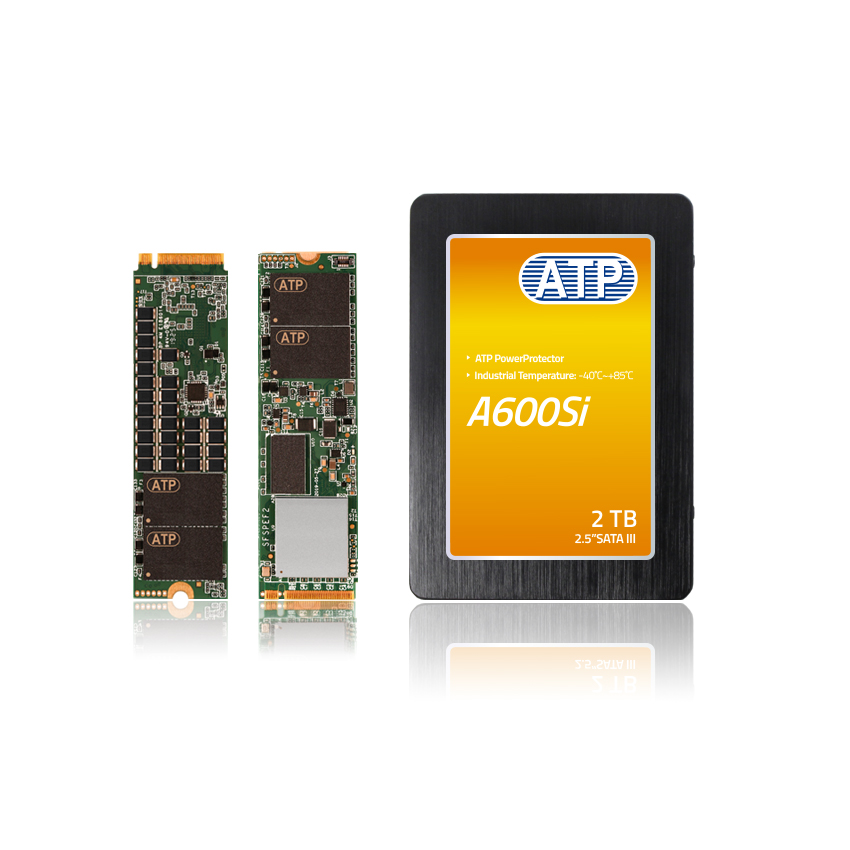 ATP A600Si/A600Sc Serial ATA solid state drives (SATA SSDs) and M.2 2280 NVMe N600Si/N600Sc solid state modules feature a completely new design of the power loss protection (PLP) array for intelligent performance in various temperatures, power glitches and charge states. Utilizing a new power management IC (PMIC) and new firmware-programmable MCU (microcontroller unit), these new SSDs deliver enhanced device protection features such as power-up inrush current and input over-voltage protection to prevent circuitry damage. To improve data integrity, input power noise de-glitch prevents incorrect cache flushing caused by false triggers such as noisy or unstable host input voltage while under-charge/over-charge protection is available for hold-up power capacitors.
The latest SATA and NVMe SSDs offer RAID engine support, providing redundancy and fault tolerance to prevent data loss in the event of a drive failure, as well as end-to-end data protection for thorough error control throughout the entire data transfer path from the host system to the SSD and vice versa.
ATP's next-generation SSDs are available in C-Temp and I-Temp ratings for reliable operation in diverse environments. SATA SSDs with the new MCU-based design include mSATA, 2.5" SSDs and M.2 2242/2280 modules.
ATP's First 3D TLC NAND SD/microSD Cards Built for Reliable Automotive/Industrial Applications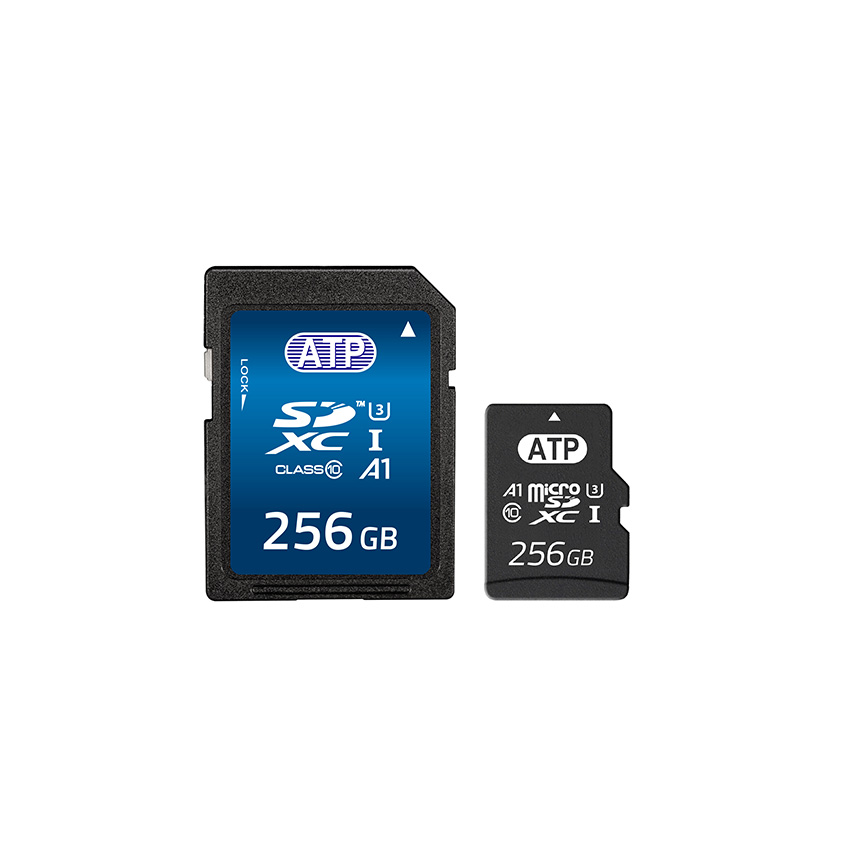 ATP 3D TLC-based A1 performance class S600Sia SD/microSD cards employ 64-layer 3D NAND technology. The 3D NAND architecture mitigates reliability concerns that came with planar NAND's shrinking lithography, making these portable and removable storage devices suitable for the strict reliability demands of industrial and automotive applications.
The 3D TLC-based S600Sia memory cards undergo endurance, data retention and wide temperature tests and are certified according to ISO, JEDEC, automotive-specific standards and temperature-related standards such as AEC-Q100/AECQ-104.
ATP S600Sia SD/microSD cards support wide operating temperature ranges from -40°C to 85°C, undergo extensive cross-temperature tests and implement temperature-related variables and mechanisms to enhance drive integrity. Dynamic Self-Recovery Calibration enables the SD/microSD to adapt to various temperature modes through a combination of firmware and hardware solutions.
With capacities of up to 256 GB ATP S600Sia SD/microSD cards meet increasing data storage needs and offer portable convenience for backup, edge computing,event data recording and map navigation with or without Internet connection.
Security showcase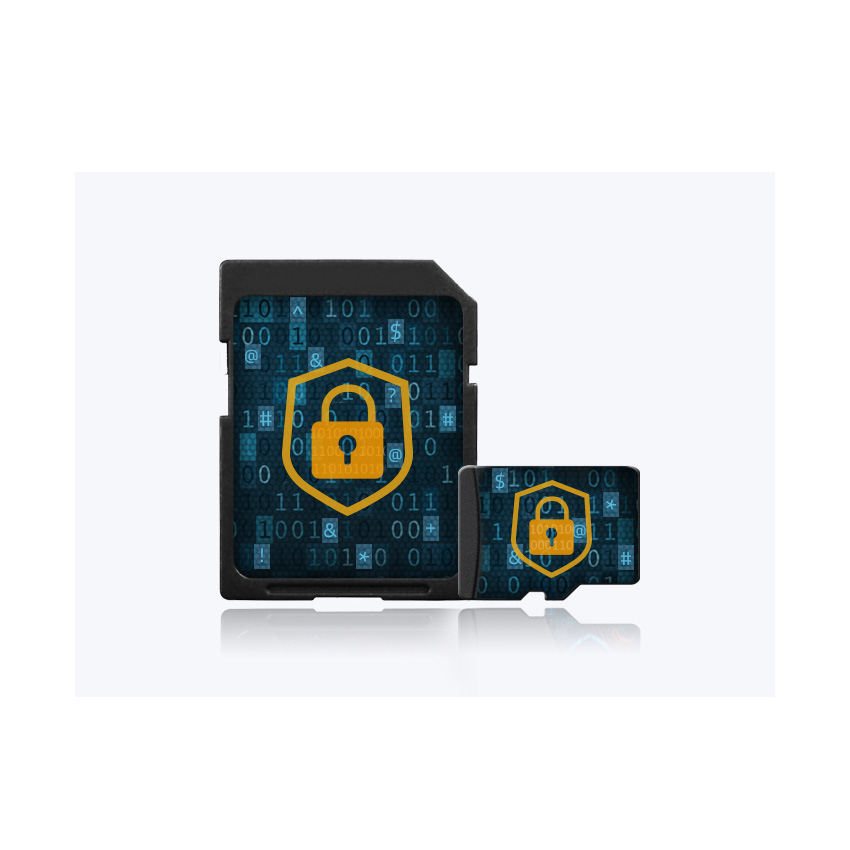 The IoT era marked by the giant network of connected things with embedded intelligence will surely benefit businesses. However, this also means that as data generation continues to grow and resides in multiple locations, security threats and attacks are inevitable.
To address the increasing security concerns of the I/IoT age, ATP SecurStor Security Suite offers fortified security for mission-critical applications. SecurStor is ATP's answer to the growing data security concerns in the industry. It helps protect mission-critical applications against unauthorized access to data or systems. Its feature range includes, but goes far beyond, conventionally available data-at-rest protection mechanisms and can be customized to the individual requirements of an application or a system.
ATP storage products enabled with SecurStor offer essential data-at-rest security features by default, such as AES-256 encryption, TCG OPAL, eDrive or Self-Encrypting Drive (SED). These provide assurance that data left on the storage media is protected from unauthorized access if the device is lost or stolen.
For the protection of data in transit, such as when data is being run on a system or sent through a network, ATP offers customizable security solutions to protect against unauthorized access or illegal copying, and to ensure the integrity of data, operating system and firmware.
For inquiries, please contact ATP regional sales, distributors, or send an email to Info[at]atpinc.com
Media Contact: Kelly Lin (Kellylin[at]tw.atpinc.com)
Follow ATP Electronics on LinkedIn: https://www.linkedin.com/company/atp-electronics
For more information on the product, visit: https://www.atpinc.com/
==========
About ATP
ATP Electronics is the leading provider of "Industrial Only" NAND flash products and DRAM modules for demanding industrial/automotive applications requiring the highest levels of performance, reliability and endurance. A true manufacturer for over 25 years, ATP manages every stage of the manufacturing process to ensure quality and product longevity, offering in-house design, testing, and tuning from component to product level. For more information on ATP Electronics, please visit www.atpinc.com or contact us at info@atpinc.com.