TSE, PCIe® Gen 4, High-Endurance SSD Solutions Geared for Retail Fiscal,Automotive, and Industrial/Automation Take Centerstage
Taipei, Taiwan (March 2023) – ATP Electronics, the global leader in specialized storage and memory solutions, meets the evolving memory and storage needs of embedded systems in function-critical applications. ATP displays its latest offerings at the Embedded World Exhibition and Conference in Nuremberg, Germany from March 14 to 16.
Among the most anticipated showcases at the ATP Booth in Hall 1-210 will be the latest products and solutions specifically built for applications in the fiscal retail, automotive, and industrial/automation segments, all of which require uncompromising security, reliability, performance, and endurance.

TSE Solutions for the German Retail Fiscal Market: Superior Features at Reasonable Price Points
ATP's Technical Security Devices (TSE) for the German fiscal retail market have a projected maximum of certificate validity of 8 years, which is longer compared with the 5 years typically offered by other vendors. This will deliver huge savings on re-certification costs and will offer the assurance of uninterrupted secure operations for business establishments.
ATP TSE solutions are designed and built to securely store transaction data and guarantee its integrity by preventing unauthorized manipulation for the purpose of tax fraud. These solutions comply with the requirements set by the German Federal Office for Information Security (BSI).
With features on par or even exceeding other solutions in the market, ATP's TSE solutions will also be introduced at more reasonable price points.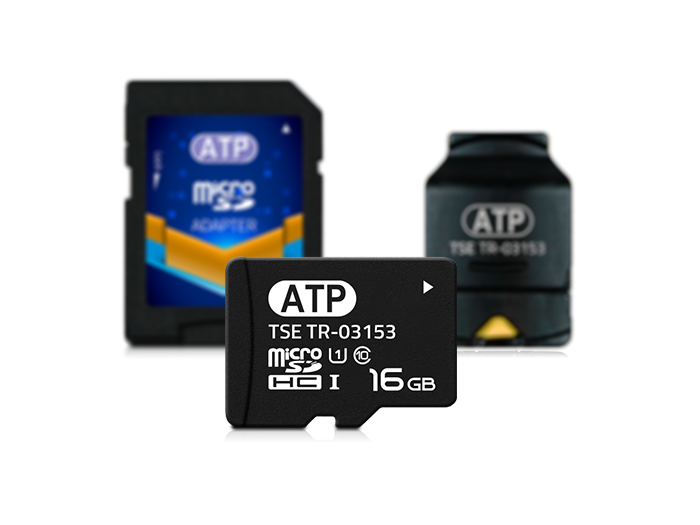 ​
Projected Certificate Validity: Up to 8 years (also available with 5-year validity)
Form factors: microSD, SD and USB form factors
Capacities: 8 GB and 16 GB
Data Retention: Up to 10 years (depending on test conditions)
Lifetime: More than 20 million signatures (may vary depending on payload size)
Signature time less than 150 ms
OS Support: Windows, x86, Linux
PCIe Gen 4 SSDs: Meeting the High-Speed Data Transfer Needs of the Automotive Segment
Innovations driving connected cars are paving the way for massive amounts of data to store, analyze, and retrieve in real time. ATP's latest flagship offerings, the new N600Si/Sc NVMe M.2 2280 and U.2 SSDs with the PCIe Gen 4 x4 interface, meet the growing need for high-speed data transfers. The 16 GT/s data rate translates to 2 GB/s for every PCIe lane, which doubles the bandwidth of the previous generation and enables these SSDs to transfer data faster.
ATP's PCIe Gen 4 SSDs built on over 100 layers of 3D TLC NAND use x4 lanes for a maximum bandwidth of 8 GB/s, which makes these SSDs suitable for automotive data logger and high-performance applications requiring high read/write and input/output.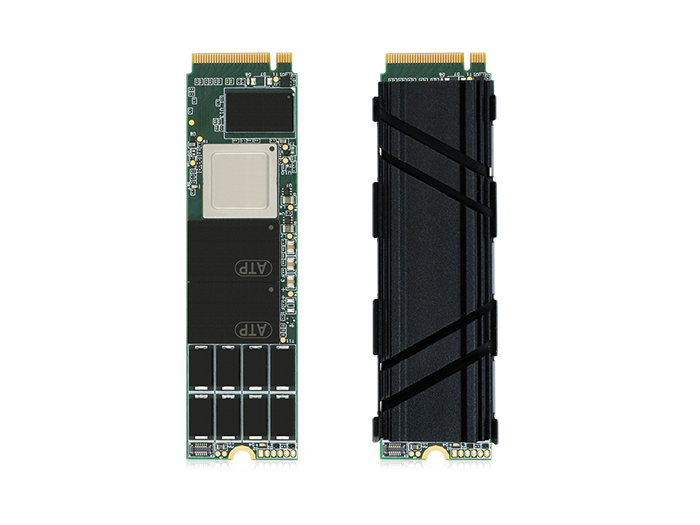 PCIe Gen 4 NVMe M.2 2280 SSD
Capacities: 240 GB to 3.84 TB
Operating Temp
I-Temp (-40°C to 85°C): N600Si
C-Temp (0°C to 70°C): N600Sc
Thermal Management for Optimal Heat Dissipation
Nickel-coated copper heat spreader on controller
4 mm or 8 mm fin-type heatsink design
AES 256-bit encryption, TCG Opal 2.0
End-to-End data path protection
Read/Write up to 6,450/6,000 MB/s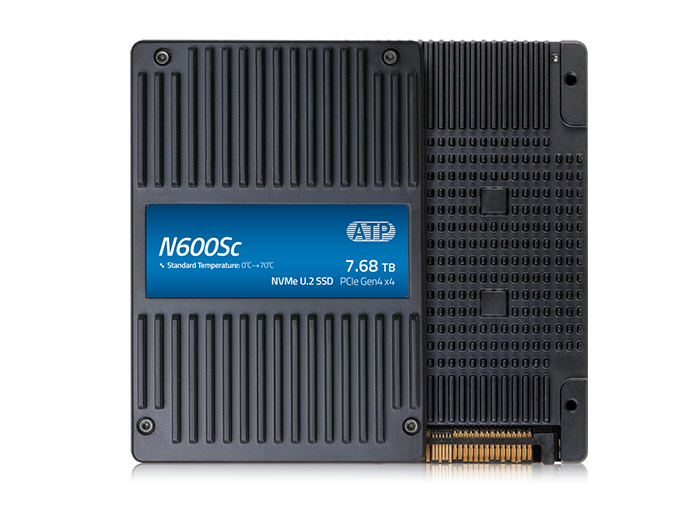 PCIe Gen4 NVMe U.2 SSD
Capacities: 960 GB to 7.68 TB
Operating Temp
I-Temp (-40°C to 85°C): N600Si
C-Temp (0°C to 70°C): N600Sc
Thermal Management for Optimal Heat Dissipation
15 mm fin-type heatsink design
AES 256-bit encryption, TCG Opal 2.0
End-to-End data path protection
Read/Write up to 3,900/3,800 MB/s
Hot-swappable
Comprehensive Industrial SSD Product Line: Endurance, Thermal Options for the Diverse Needs of Industrial/Automation Segments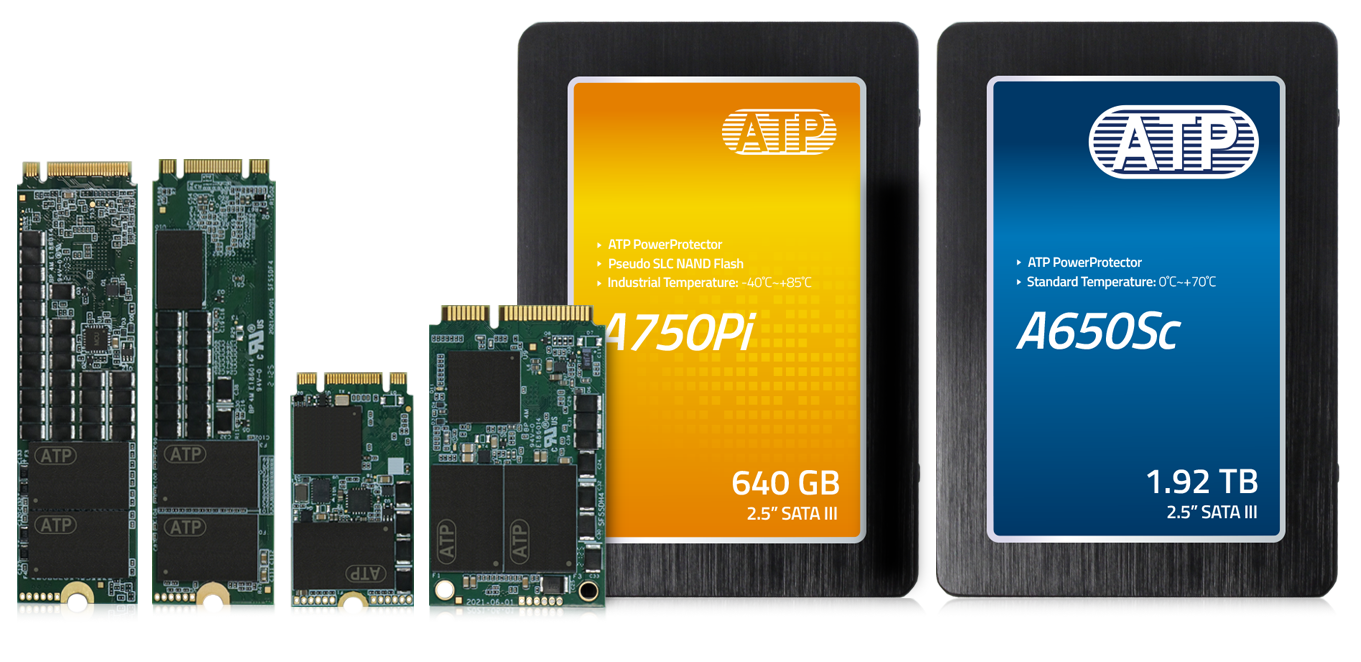 Also on display at Embedded World 2023 are ATP's wide range of legacy and latest-generation NAND flash storage solutions in different form factors, endurance ratings, thermal, operating temperature, firmware, and customization options to meet the requirements of industrial and automation systems. ATP's industrial flash storage products deliver the longest uptime and least maintenance and operate reliably even under strenuous conditions and extreme temperatures.
E750Pi/Pc Series e.MMC built with 3D TLC NAND flash but configured as pSLC offers endurance on par with SLC, while E650Si/Sc Series in native TLC has near-MLC endurance.
Type B CFexpress Cards with PCIe 4.0 x2 interface built with 3D TLC flash offer hefty storage. They feature Host Memory Buffer (HMB) support to improve random read performance, TCG-Opal and hardware write-protect security, and RAID 0, 1 compatibility.
Customizable thermal solutions for NVMe Gen. 3 and Gen. 4 M.2 and U.2 solid-state drives (SSDs) that combine ATP-built hardware and firmware, as well as simulation and testing systems. Depending on customer and application criteria, as well as available space within host systems, ATP can offer copper foil and 4 or 8 mm fin-type heatsink to dissipate heat. The ATP Dynamic Thermal Throttling mechanism is a firmware-based mechanism that prevents extreme temperature increase by continuously detecting device temperature.
For more information on these products, visit: https://www.atpinc.com/products/list/industrial-ssds
Media Contact on the Press Release: Kelly Lin (Kellylin[at]tw.atpinc.com)
Follow ATP Electronics on LinkedIn: https://www.linkedin.com/company/atp-electronics
==========
About ATP
ATP Electronics ("ATP") has dedicated 30 years of manufacturing excellence as the premier provider of memory and NAND flash storage products for rigorous embedded/industrial/automotive applications. As the "Global Leader in Specialized Storage and Memory Solutions," ATP is known for its expertise in thermal and high-endurance solutions. ATP is committed to delivering add-on value, differentiation and best TCO for customers. A true manufacturer, ATP manages every stage of the manufacturing process to ensure quality and product longevity. ATP upholds the highest standards of corporate social responsibility by ensuring sustainable value for workers, the environment, and business throughout the global supply chain. For more information on ATP Electronics, please visit www.atpinc.com or contact us at info[at]atpinc.com.