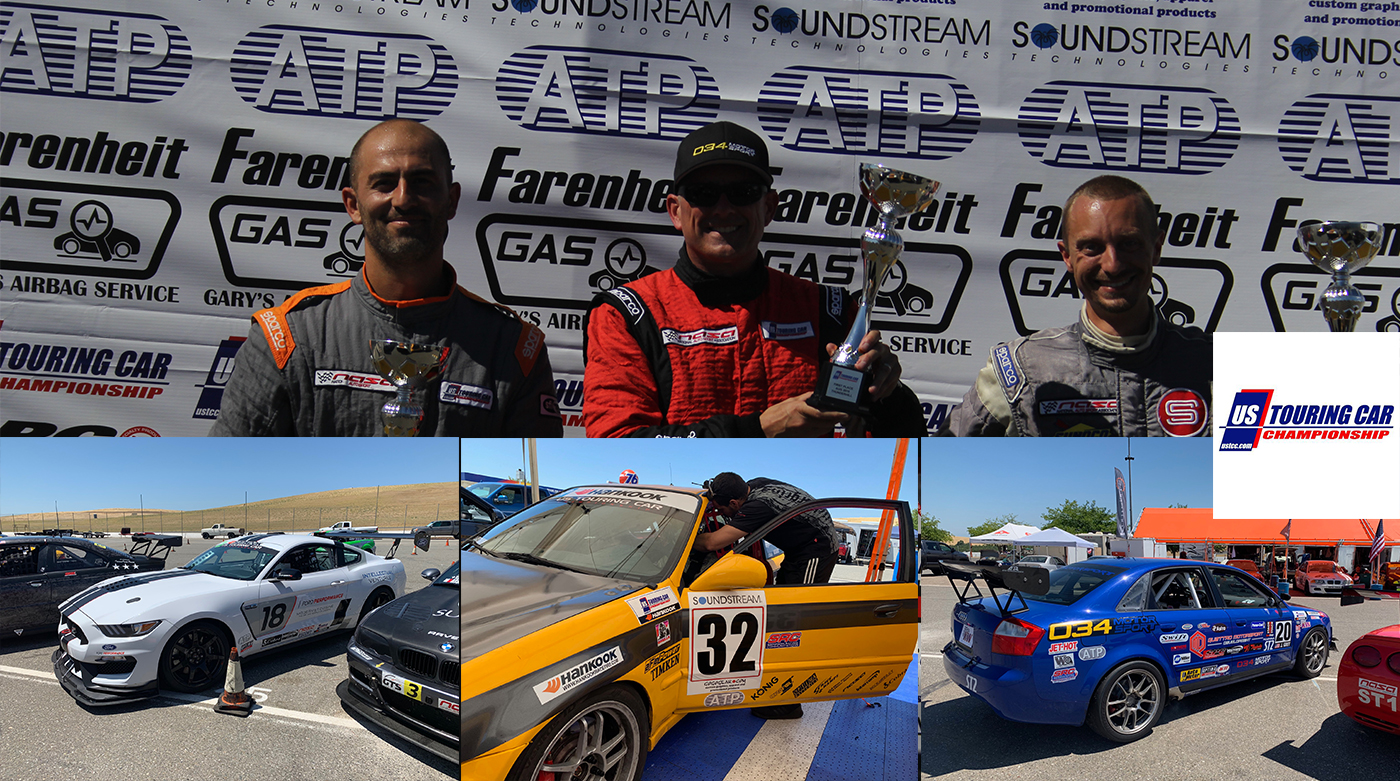 Taipei, Taiwan (August 2019) – The United States Touring Car Championship (USTCC), the longest-running professional touring car series in the US, has announced the appointment of ATP Electronics as its "Official Memory Storage Solutions Partner." As USTCC partner, ATP Electronics will provide high-performance industrial only NAND flash storage solutions for the data-intensive media coverage and TV production requirements of USTCC's upcoming races.
"Digital technology has revolutionized the way fast-paced events like the USTCC are covered by the media," said Ali Arsham, Managing Director of the USTCC. "At every race, a dozen cameras are shooting from the outside as well as anywhere from one to four cameras inside each car, giving audiences an immersive experience with high-definition clarity and high-speed action with timely broadcasts on NBC Sports Network. It is no easy task. The volume of data being recorded alone is daunting, not to mention the high-speed processing and highest levels of data accuracy and integrity required." To comply with such rigid video recording and storage requirements, Arsham said that USTCC chose ATP because "ATP has the resources, knowledge and track record to provide the memory and storage solutions required to produce the show."
According to Marco Mezger, ATP Vice President of Global Marketing, "This partnership between ATP and USTCC is an exciting opportunity to showcase our industrial strength, which has been honed by years of research, testing and continuous improvement. With nearly 30 years of manufacturing expertise and 10 years of automotive experience catering to the world's leading OEM/Tier 1 suppliers, system developers and service providers, ATP is very well-versed in meeting the rigorous memory and storage requirements of industrial and automotive applications."
ATP's array of flash storage products is available in different form factors, capacities and interfaces suitable for the big data storage and performance needs of digital media generation and automotive applications. Embedded solutions such as 2.5" SSDs, SATA/NVMe™ M.2 modules and e.MMC are available in I-Temp ratings for reliable non-stop operation in extremely hot or cold settings (-40°C to 85°C) and harsh environments. They are also outfitted with unique technologies for extending service life, safeguarding data integrity even in power loss events and securing data against unauthorized access.
Portable and removable flash storage includes A1-rated SD and microSD cards for fast data transfers, reliable backup and convenient storage expansion. The SDA A1 Application Performance Class rating means higher input/output per second (IOPS) to run high-speed applications, deliver exceptional agility, 93% lower write latency, 3X higher random read/write performance with 1500/500 IOPS, 53% lower power consumption and robust durability to withstand environmental and power challenges.
All ATP flash storage solutions undergo comprehensive testing and validation from IC to device and mass production levels to guarantee high levels of reliability, endurance, data integrity and responsiveness.
For inquiries, please contact ATP regional sales, distributors, or send an email to Info@atpinc.com.
Media Contact: Kelly Lin (Kellylin[at]tw.atpinc.com)
==========
About ATP
ATP Electronics is the leading provider of "Industrial Only "high-performance, high-quality and high-endurance NAND flash products and DRAM modules. With over 25 years of manufacturing expertise, ATP ensures that all its products are designed and built to accomplish mission-critical tasks in industrial/automation, telecom, medical, automotive, and enterprise computing applications where high levels of technical proficiency, manufacturing quality, and wide operating temperature ranges are required. ATP is a certified Eco/Green partner of tier one OEMs and all ATP products are fully RoHS and China RoHS compliant. A true manufacturer, ATP manages every stage of the manufacturing process to ensure quality and product longevity, offering in-house design, testing, and tuning from component to product level. ATP supply chain support includes controlled/fixed BOMs and long-term product life cycles. For more information on ATP Electronics, please visit www.atpinc.com or contact us at Info[at]atpinc.com.
About the USTCC
USTCC is a professional road racing series comprising late model sport compact sedans such as BMW 3 series, Mazdaspeed 3, Hyundai Genesis Coupe, Honda Civic and others. The cars use slightly modified engines and highly modified suspensions with aerodynamic ground effects and sticky Hankook slick race tires. The races can be seen exclusively on Final Drive TV (www.finaldrive.tv) available on NBC Sports on Comcast cable, Dish Network, DirecTV and AT&T U-verse. For more information on USTCC, visit www.ustcc.com.