Smart Factories: The Color of the Future is Green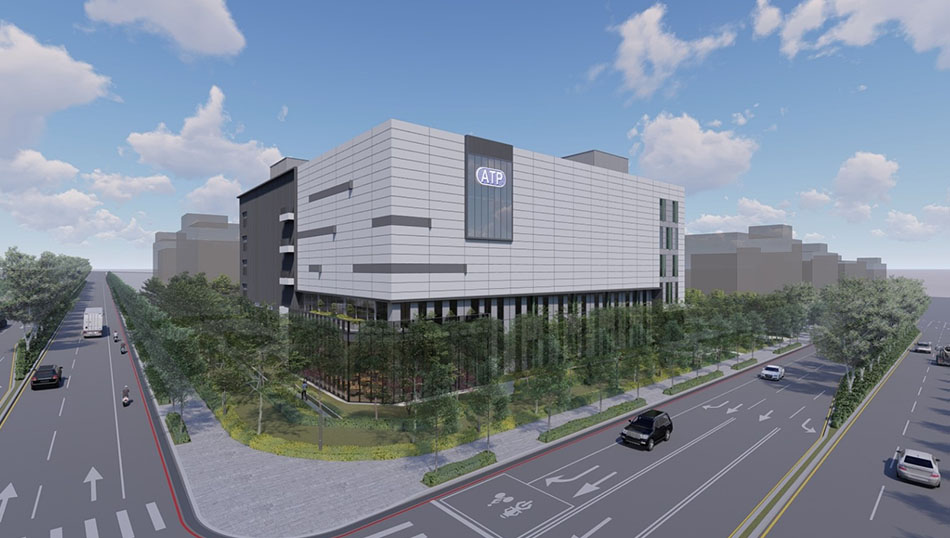 Introduction to a Greener Future
Environmental, Social, and Governance (ESG) standards are impacting how companies do business as investors, shareholders, and stakeholders become more conscious and vigilant in monitoring corporate policies relating to these three criteria.
Environmental: How does a company safeguard the environment? How does it address climate change, minimize its footprint, and responsibly operate to ensure sustainability?
Social: How does a company manage relationships with internal and external stakeholders, such as employees, suppliers, distributors, partners, and the community?
Governance: How does a company ensure accountability and transparency among its leaders? Are there sufficient audits and internal controls? How does the company protect shareholder rights?
As a true manufacturer, ATP Electronics recognizes that smart manufacturing is a leading driver of ESG. Policies on the environment and sustainability continue to increase in importance amid critical concerns such as climate change. In this article, we take a close look at how ATP Electronics is embracing environmental sustainability efforts and implementing its own ESG initiatives through smart manufacturing.
Green, Smart, Automation-Driven Facility
Smart factories utilizing the Industrial/Internet of Things (I/IoT), artificial intelligence (AI), and automation address the Environmental pillar of ESG principles by optimizing resource use and minimizing waste and emissions. Real-time monitoring enables energy efficiency, sustainable sourcing, and responsible waste management, while integration with renewables support a circular economy and long-term sustainability.
ATP recognizes that the rise of automation is inevitable in enabling and implementing smarter ESG initiatives as well as ensuring sustainable business growth. Its new ESG-centric facility at Ciaotou Science Park in Kaohsiung, Taiwan is slated for operation in 2025 and is targeted to become a LEED-certified green building.
Leadership in Energy and Environmental Design (LEED) is the world's most widely used rating system for green buildings. The LEED rating system "provides a framework for healthy, efficient, and cost-saving green buildings" and a LEED certification is a "globally recognized symbol of sustainability achievement."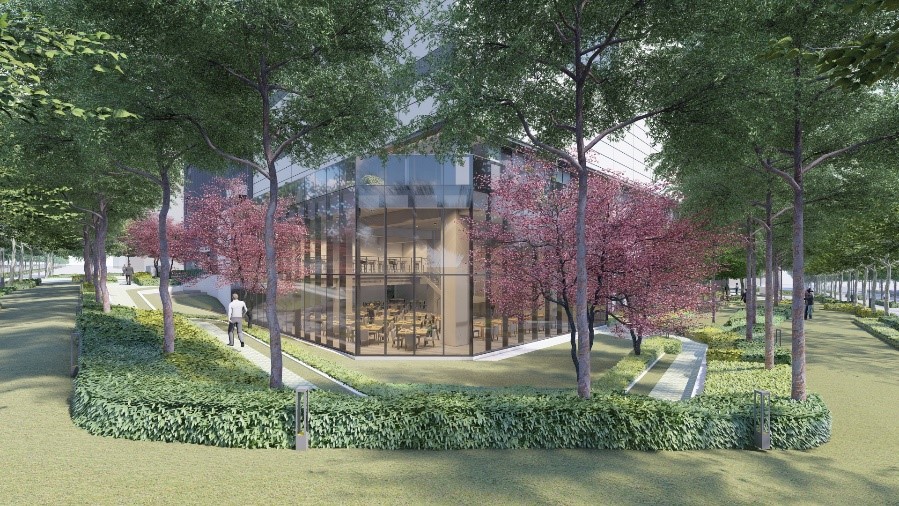 ATP Electronics' new ESG-centric facility at Ciaotou Science Park in Kaohsiung, Taiwan is expected to be operational and LEED-certified in 2025.
Storage Solutions for Industries Transitioning to Smart Factories
Industries are increasingly transforming traditional facilities into smart factories. They are using technology to reduce environmental impact while reaping huge benefits, such as:
Renewable energy
Energy efficiency
Smart mobility
Low-carbon society technologies
Efficient manufacturing
Waste reduction
Driving this transition is DATA, and with it, evolving requirements for transmission, storage, and analysis.
The following illustrates how conventional and smart factories differ in terms of system and data requirements.
Individual System

Data Size: Small (OS, log file, license key)
Isolated Machine Operation
Separate Data Gathering

Integrated Ecosystem

Data Size: Larger (Images)
Machine Connectivity
Centralized Data Collection, Monitoring, Analysis
Greener

Requirements

Reliability
Data Integrity

New Requirements

Real-time Data Transmission/Storage/Analysis
Low Latency (advanced)
Higher Capacity / Resolution for Image Storage
Data Security and Backup
To meet the new requirements of green, ESG-centric smart factories, ATP offers specialized memory and storage solutions. Here are examples of use cases and corresponding ATP solutions according to application needs. Removable and embedded solutions in a variety of form factors, supported protocols/interfaces, and capacities are available.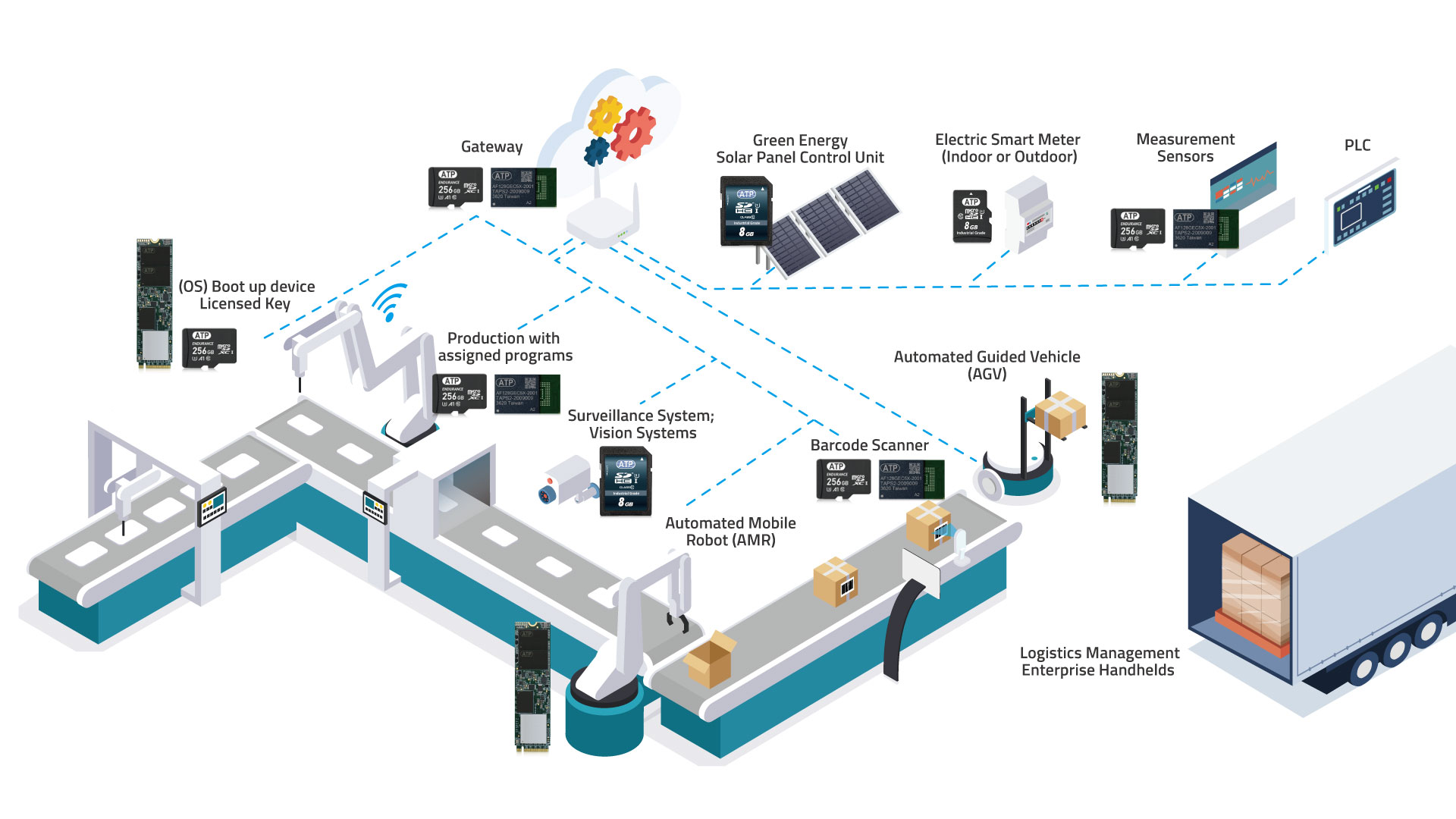 ​
WE BUILD WITH YOU
ATP's commitment to ESG standards goes beyond its own walls.
By customizing reliability, thermal, endurance, power consumption, material, and other specifications according to application needs, we enable customers to support sustainability programs and implement corporate policies that meet the "Environmental" component of ESG through our "WE BUILD WITH YOU" program.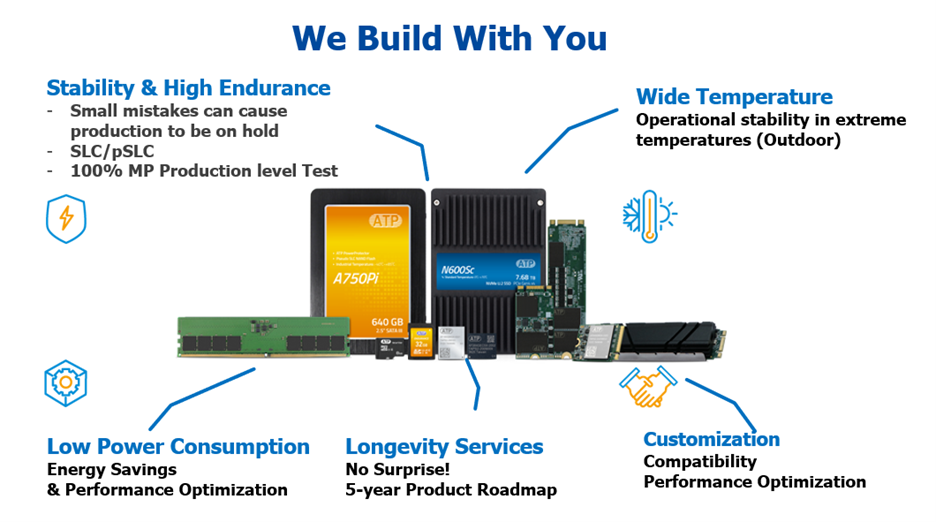 Conclusion
ESG is an important aspect of today's businesses. ATP is committed to supporting and implementing ESG initiatives and recognizes that smart manufacturing is a leading driver of ESG.
For the Environmental pillar, ATP's efforts include building a smart facility that is expected to be operational and LEED-certified by 2025. In addition, it offers specialized storage solutions that meet the expanding data requirements of smart factories.
ATP can custom-configure these solutions for customers to enable them to meet ESG criteria with the confidence that every industry's cooperation can lead to a better, sustainable future.
For more information on ATP's ESG initiatives and "WE BUILD WITH YOU" program, please visit the ATP website or contact an ATP Representative.