Q4 Quarter Intelligence roundup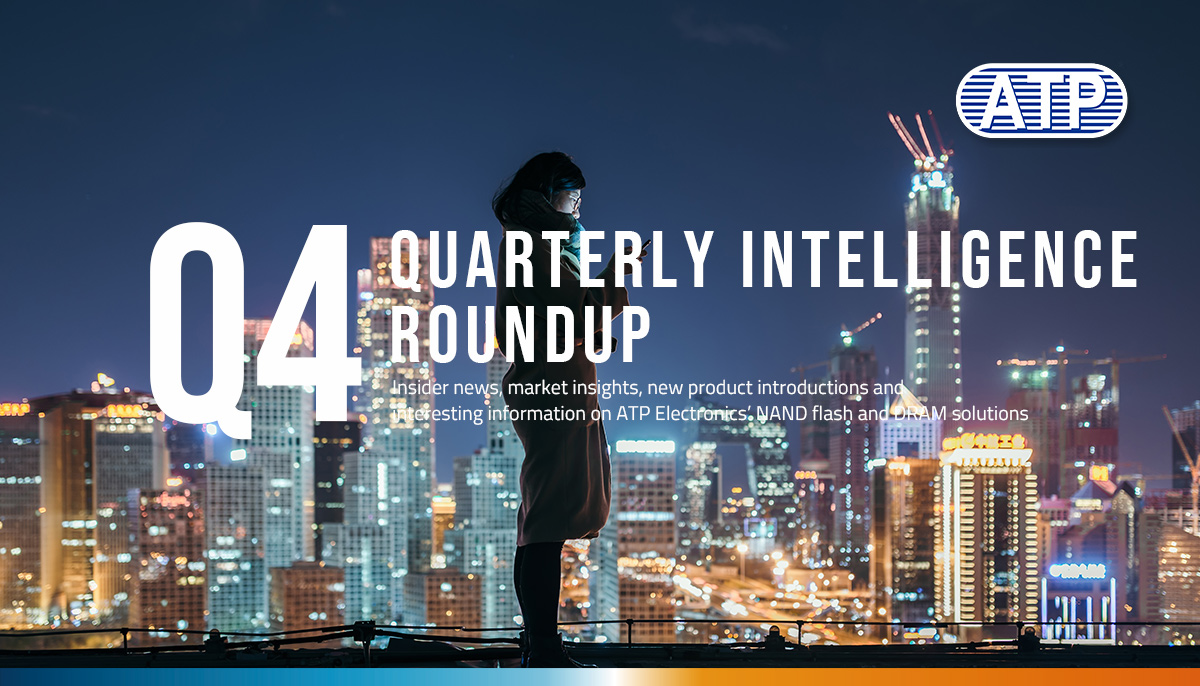 Q4 Quarter Intelligence roundup
Robust, High Endurance ATP S800Pi SD/microSD Cards Provide Reliable Storage and Enable Fast Data Analytics for Building Automation Systems
The Challenge
A building automation system controls various aspects of a building's structure for occupants' safety and convenience. It integrates systems made up of different components, with embedded PCs functioning as small controllers to optimize protocol communication for monitoring, maintenance and analysis. The embedded PCs are usually installed as a space-saving industrial controller in the control cabinet and located in a seldom-used area to prevent interference. Due to their isolated location, these embedded PCs require high-endurance flash storage devices with a small form factor.

A building automation supplier needed memory cards to be used for saving the operating system (OS) and for integrating data from diverse sensors and devices. To make sure that the smart building functions well, the OS and programs stored in the memory cards should maintain their integrity at all times, and the storage device itself should be highly reliable considering the operating environment and workload.

Massive amounts of data from numerous sensors, such as air conditioning, water and electricity usage, need to be collected and processed by the building control system, then transferred and analyzed, typically on the cloud. For speedier processing and time-critical analysis, however, a network-independent solution was needed.

The Solution
ATP S800Pi SD/microSD cards with single-level cell (SLC) flash and maximum capacity of 8 GB are the optimum choices for intelligent building applications, such as environment detection, energy consumption, and data logging.

The robust, high endurance, and extended longevity memory cards fulfill building automation needs. Even though most systems are already equipped with capacitors providing uninterrupted power supply (UPS) function, ATP S800Pi SD/microSD cards feature power failure protection that increases the chance of saving "correct" data. These memory cards provide storage at the edge, so monitoring and analysis of power consumption usage can be done expediently with or without network availability.

In addition, ATP's Bill of Materials (BoM) control strategy and long-term relationship with suppliers ensure long-term support to fulfill industrial applications' demand for the S800Pi SD/microSD cards.

The Result
ATP has satisfactorily met the building automation supplier's requirements, which has led to the long-term partnership. With ATP's extensive experience and steady supply, ATP is proud to provide high-endurance industrial memory cards to the building automation industry.

As edge devices, the ATP S800Pi SD/microSD cards enable power savings with fast and timely analysis of power usage data from sensors without having to wait for transmittal to the cloud.
ATP DDR4 32 GB VLP RDIMMs in 16 Gb SDP Design Deliver Best Reliability, Longevity and TCO for 5G Base Station Applications
The Challenge
With higher data peak rates, lower latency and extensive network capacity, 5G certainly supersedes 4G performance. To deliver its maximum benefits, larger and faster memory is required to make sure that 5G applications can handle the surge in networking and computing demands. Aside from speed, these modules also need to operate with low power consumption. As they are expected to perform reliably for many years, longevity is also critical to maximize the total cost of ownership (TCO).

A customer requested 32 GB very low profile registered DIMM (VLP RDIMM) modules with better longevity support and price-effective solution for their 5G base station application.

The Solution
ATP offered the DDR4 32 GB VLP RDIMM module with new 16 Gb in a single-die package (SDP) IC design (1x nm DRAM cell architecture). Compared with the previous dual-die package (DDP) 20 nm-based solution, this new configuration is composed of 18 dies, which is only half the quantity used in DDP. By implementing fewer die counts and a more advanced process, this design does not only improve product reliability at module level, but also provides a better price and longevity support to the customer.

The Result
ATP DDR4 32 GB VLP RDIMM modules utilize 18 pieces of 16 Gb SDP memory chips. Compared with DDP-based solutions, this new specification offers the best reliability and performance to meet the higher data rates and real-time data processing needs of the 5G era, while also offering best TCO with better longevity and price advantage for the customer.
ATP pSLC A700/E700 Series SSDs with Customizable Endurance Offer Higher Reliability and 10X TLC's Endurance for Best TCO Value
The Challenge
Single-level cell (SLC) NAND flash is typically used for applications requiring uncompromising endurance and reliability. Storing only 1 bit per cell, SLC has lower densities and is the costliest among other types of NAND flash.

As embedded/industrial applications continue to increase, they require near-SLC performance with better capacities but without the steep price points. Due to the variety of usage cases, customers also need tailored solutions for different workloads, which require different assessments and drive configurations.

The Solution
The ATP A700/E700 Series is a new generation of Premium Line flash storage built with 3D triple-level cell (TLC) NAND configured as pseudo single-level cell (pSLC). This generation offers these unprecedented benefits:
Customizable Endurance. Taking into consideration the diversity of usage cases, the new ATP-developed firmware and supporting mass production infrastructure are fully customizable to endurance specifications that are tailor-fitted to customer's requirements to address any variety of embedded/industrial usage cases.
Best TCO Value for Cost per TBW Endurance. Pseudo single-level cell (pSLC) extends the general endurance to more than 10 times of the same triple-level cell (TLC) products. The pSLC technology dramatically improves the sustained write performance and reliability of the drives, making them suitable for write-intensive applications. By storing only 1 bit per cell, Premium Line solutions drive down TCO with longer service life using the most cost-effective NAND flash technology available.
The Result
ATP's new customizable Premium Line with 3D TLC NAND flash configured as pSLC demonstrated significant improvements in endurance compared with default 3D TLC offerings. By redesigning product firmware, production testing tools, and even operational processes, ATP can now customize products for a wider base of customers, including those with smaller volume requirements.
The ATP A700/E700 Series offers a balance in usable density at a better price point (Cost per GB), and impressive improvements in reliability, sustained performance, and endurance (Cost per TBW) to deliver the best TCO value.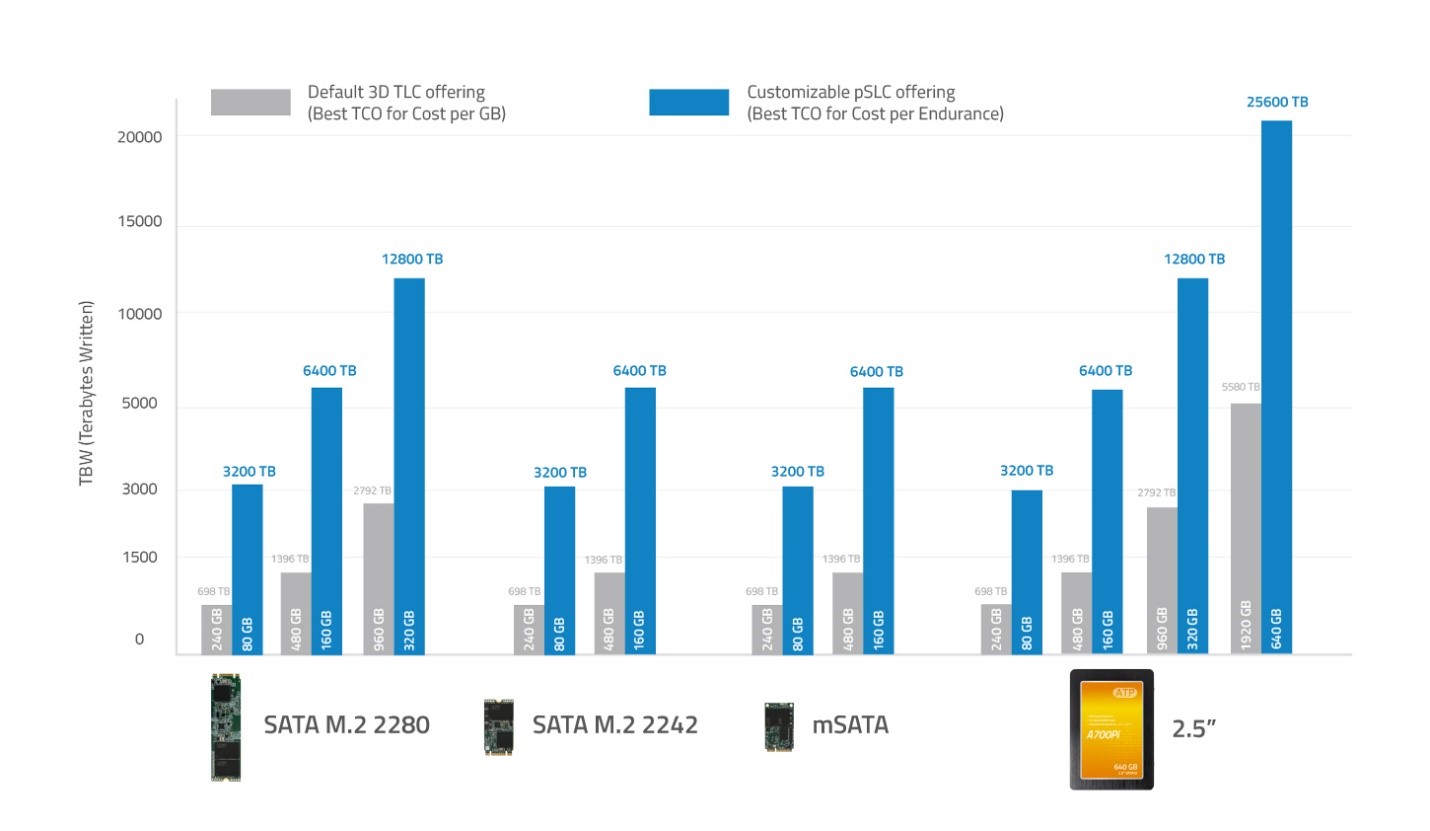 Comparison of endurance ratings between default 3D TLC offerings and ATP's new customizable pSLC-configured SATA SSDs.