Winning the Flash Memory and Storage Circuit: Lessons from the Racetrack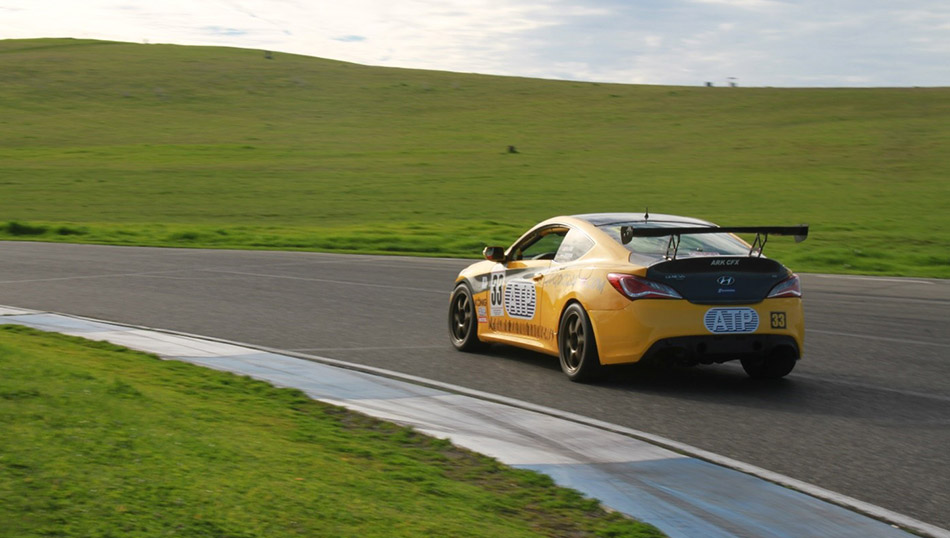 Is There One Formula?
Races largely differ by track speeds, track racing line, and race duration, but even more subtle variables such as altitude and tarmac conditions may require different car settings and driver strategies.
Other conditions vary by time and day, such as weather and temperature, also needing further real time adjustments. All these variables mixed with all the uncontrollable tendencies of other driver behavior make racing entertaining, as well as intense and challenging.
There are many types of motorsport competitions held throughout the world. They come in different forms on roads, tracks, or closed circuits, and each form naturally requires different types of cars, car settings, and driver expertise. Race durations can vary from a single time attack lap to 24-hour endurance events. The goal set between outright speed, reliability, consistency, and endurance hugely varies between events and related execution strategies need close alignment between drivers, pit crews and mechanics.
No configuration is the same nor easy. There are so many types, and problems on one circuit are unlike the others.
The industrial and embedded segment may be likened to motorsports racing, where choosing the right car and car settings for the right racetrack is critical to winning.
Choosing the right memory and storage devices for industrial/embedded applications can be intense and challenging. The landscapes and conditions of deployment and use are varied – some systems may have to run 24/7 and handle diverse workloads, or they may be installed where temperatures are extremely hot or cold. Some have the need for speed, while others require stable, sustained performance over long stretches of time.
No two racetracks are the same. No two applications are the same. So why use turnkey memory and storage solutions?
Track Record Matters on Any Racetrack
Recording high-speed action at motorsports races require cameras on the racetrack as well as inside the cars to give audiences an immersive experience with high-definition clarity. The video recording and storage requirements are rigid, considering the daunting amount of data volume and the need to deliver the highest levels of data accuracy and integrity.
ATP's removable storage devices, such as the ATP's new S750/S650 SD/microSD cards, bring racing aficionados up to speed with the action, receiving and storing hours of video footages for broadcasting. These SD/microSD cards offer exceptional endurance and are ruggedly built for reliable operation in harsh environments and extreme temperatures. They perform with low latency, thus improving host boot-up time to prevent missing recording of urgent events. The S650 Series, for example, supports continuous recording of up to over 109,401 hours — far longer than similar cards marketed as "high endurance" — while low-density parity-check error correcting code (LDPC ECC) significantly improves data transfer reliability.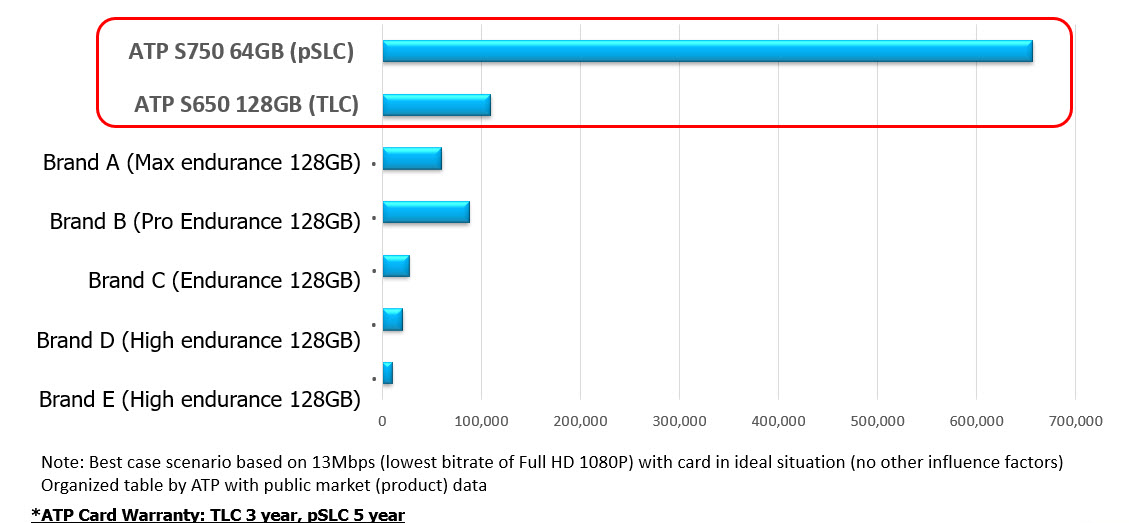 Notes:
Tested using 128 GB ATP S650 TLC card based on 13 Mbps (lowest bitrate of HD recording) in best-case/ideal scenario, with no other influencing factors.

Information sourced by ATP from publicly available data.

To record new data, the oldest data will be overwritten when the card is full.

1Mbps=1,000,000 bps
​
Beat the Heat: Keep Cool Under Pressure
Extreme heat causes damage to automobile parts and weighs the driver down. And in this increasingly data-centric era, we are in a constant race not only against time, but also against heat.
Extreme temperatures and embedded environments with little to no ventilation can lead to heating issues that can compromise the stability of the storage device. ATP's customizable thermal solutions are available for the latest NVMe solid state drives (SSDs) that run at blistering speeds. Through a combination of ATP-developed firmware and hardware solutions, we make sure that optimal sustained performance is achieved in the face of thermal challenges.
The ATP Dynamic Thermal Throttling mechanism provides a delicate balance between performance and temperature by continuously detecting device temperature and adjusting the operating pace, while heatsink options with excellent conductivity, reliability, design, and hardness can dissipate heat complemented by airflow support. The maximum composite temperature of NVMe SSD is reduced, and the performance is steady.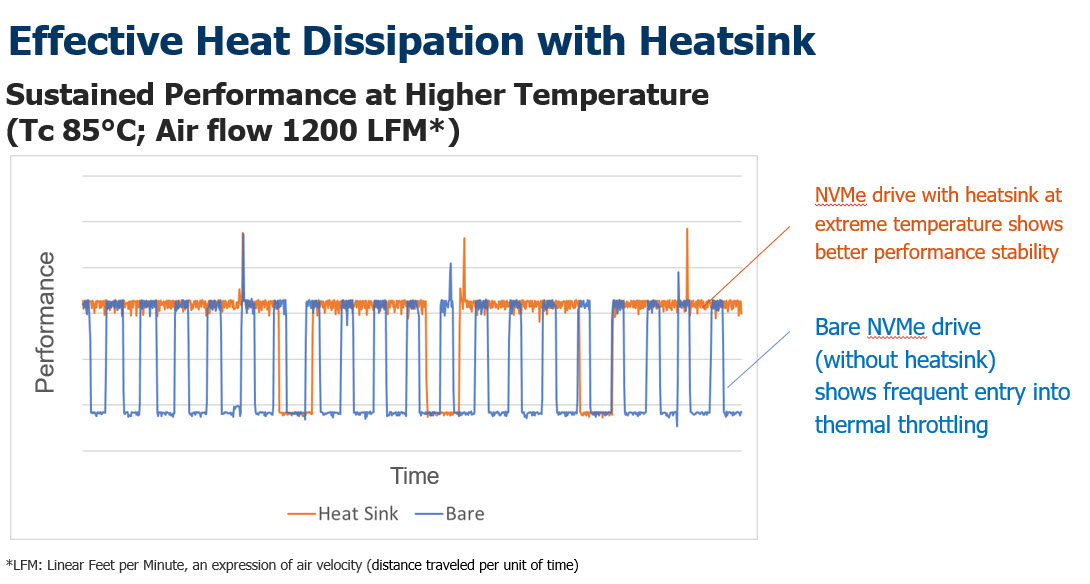 Endurance Racing: Standing the Test of Time
In automobile endurance racing, three of the most daunting races are known as the Triple Crown. These are the 24 Hours of Daytona, 12 Hours of Sebring, and 24 Hours of Le Man.
NAND flash memory has a finite number of program and erase (P/E) cycles. While flash controller technology has made great strides to extend life expectancy, the nature of flash remains, and the memory cells wear out with each P/E cycle.
Due to its high endurance, single level cell (SLC) flash storage is commonly thought to be the best option for mission-critical industrial/embedded applications. As its name implies, SLC stores only 1 bit of data per memory cell, making it not only very pricey but also very limited in terms of capacity.
ATP has successfully made 3D triple level cell (TLC) NAND flash suitable for industrial/embedded applications. Latest 3D TLC-based SSD offerings configured as pseudo SLC (pSLC) now have near-SLC level endurance, while those in native TLC extend their endurance to MLC levels. Through ATP's exhaustive reliability testing and validation, we are setting ATP SSDs a cut above the rest.
ATP-developed firmware and supporting mass production infrastructure are fully customizable to endurance configurations to address any variety of embedded/industrial usage cases and thus ensure optimal TCO.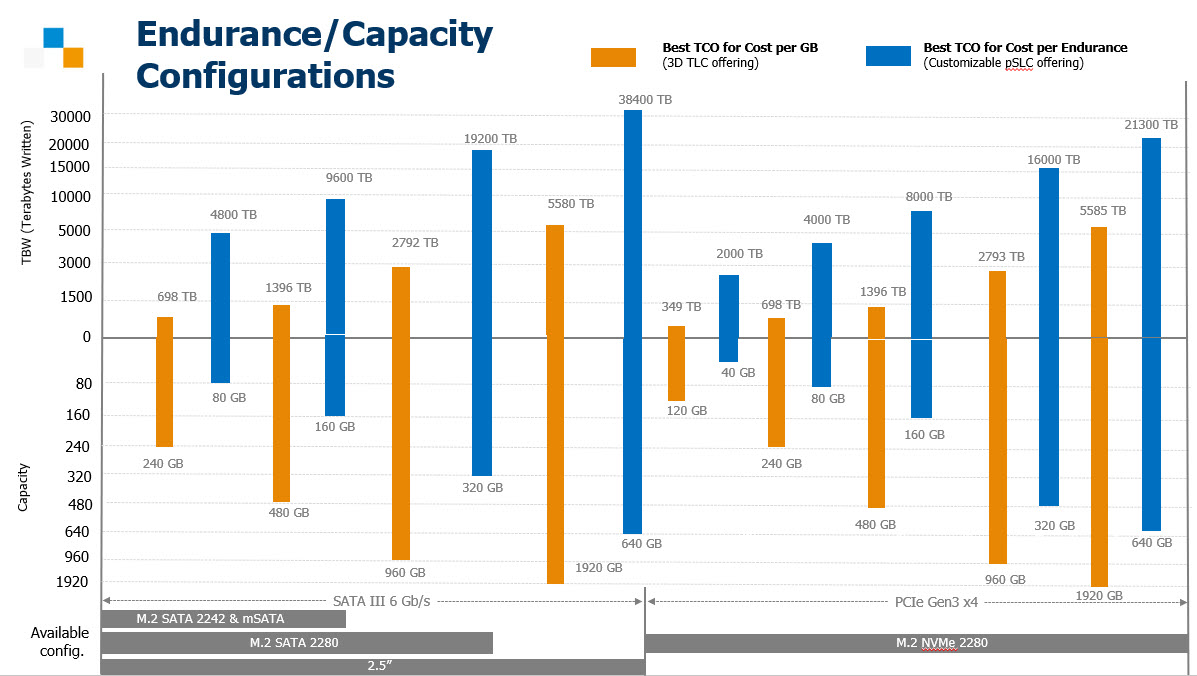 Buckle Up: Be Safe and Secure
Crashes do happen in motorsports competitions, so minimizing the risk of injury is paramount. From driver gear to automobile and racetrack design, the goal is not only to win but also to finish safe.
Data is always at risk. Power outages can corrupt data. Over time, error bits increase, cell-to-cell interference occurs in frequently written areas, or threshold voltages shift and cause read disturb errors.
Select NVMe modules and SATA SSDs feature a completely new design of the power loss protection (PLP) array, which utilizes a new power management IC (PMIC) and new firmware-programmable MCU (microcontroller unit). Integrated into its latest PLP technology, the new MCU design allows the PLP array to perform intelligently in various temperatures, power glitches and charge states.
Features like dynamic data refresh, sudden power-off protection (SPOR), end-to-end data path protection, SRAM soft error detection and recovery, and more, ensure data integrity.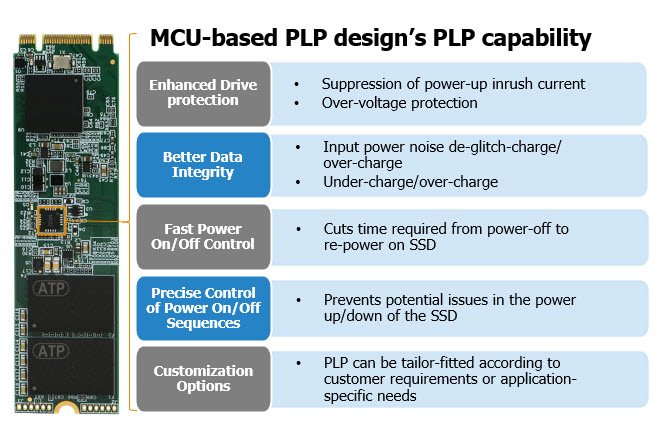 Conclusion: One Solution Does Not Fit All. We Build with You!
No two racetracks are the same. No two applications are the same. Neither should we apply the same memory and storage solutions for all industrial/embedded workloads and applications.
ATP recognizes the diversity of such requirements and is capable of meeting them by offering both standard as well as custom-configurable thermal, endurance and security products. Through close collaboration with customers, we can understand the performance criteria, user application and system specifications to deliver the best-possible solutions.
ATP Electronics knows races and racetracks well. As a long-time "Official Memory Storage Solutions Partner" of the United States Touring Car Championship (USTCC) and with several motorsports racing aficionados in the team, we know the memory and storage demands of recording high-speed action and storing hours and hours of video. We know what it takes to deliver the highest levels of data accuracy and integrity.
Racetracks vary, and so do applications, each one with unique memory and storage solutions. Off-the-shelf or turnkey solutions might seem to cost less at the time of purchase, but since these products are not built for the unique nuances of your application and workload requirements, the cost may be higher in the long run.
Customization options are available by project request. ATP can custom-configure storage solutions according to your unique requirements, application-specific needs, or use cases. We assure you that with our custom-configurable offerings, you can win the race with endurance, reliability, and security.
For more information on ATP's customization services, please visit the ATP website or contact an ATP Representative.