What is DDR4?
Double data rate fourth generation (DDR4) is a memory standard designed as a better, faster, more reliable replacement for DDR3.
How does DDR4 differ from DDR3 in appearance?
Physically, a DDR4 module, or dual in-line memory module (DIMM), looks very similar to a DDR3 DIMM. However, DDR4 has 288 pins compared with DDR3's 240 pins; DDR4 SO-DIMMS have 260 pins instead of 204 in DDR3. The DDR4 key notch is in a different place, and the edge connector looks like a slightly curved "V" to facilitate insertion. This design also lowers insertion force, as not all pins are engaged at the same time during module insertion.
DDR Key Notch Positions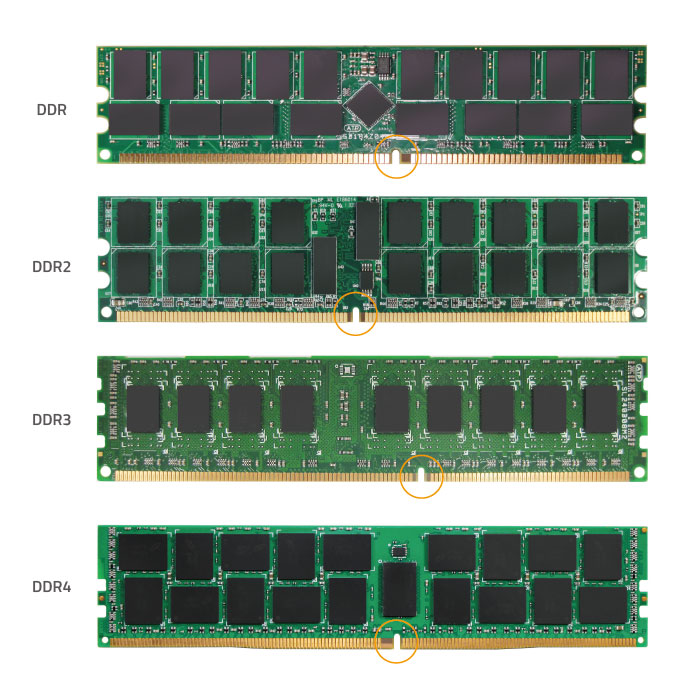 Figure 1. The pin count and key notch location for each DDR generation are different.
How does DDR4 differ from other DDR generations?
The following table compares the different DDR generations.
DDR Evolution
Table 1. Comparison of different DDR generations
What are the advantages of DDR4 over DDR3?
Lower power
DDR4 modules are more energy-efficient, operating only at 1.2V compared with DDR3's 1.5V or 1.35V. The reduced power consumption gives substantial power savings and allows operation at higher speeds without higher power and cooling requirements.
Higher module density
DIMM densities start at 2 GB, reaching up to 128 GB – a big leap from DDR3's 512 MB to 32 GB capacities.
Faster data transfer speed
ATP's latest DDR4 modules for embedded and industrial applications deliver high-speed data transfers up to 3200 MT/s. DDR4-3200, the latest industrial DDR4 offering from ATP, transfers data about 70% faster than DDR3-1866, one of the fastest DDR3 versions available, for a big boost in theoretical peak performance.
| Item | DDR3-1866 | DDR4-3200 |
| --- | --- | --- |
| I/O bus clock | 933 MHz | 1600 MHz |
| Data rate | 1866 MT/s | 3200 MT/s |
| Peak transfer rate | 14928 MB/s | 25600 MB/s |
Table 2. DDR3-1866 vs. DDR4-3200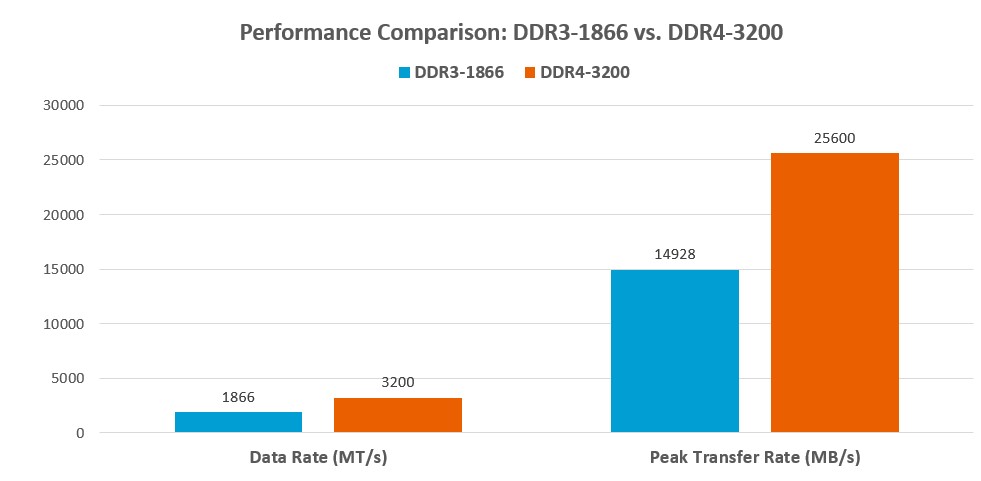 Figure 2. Performance comparison: DDR3-1866 vs. DDR4-3200.
Do the latest Intel® Xeon® Scalable processors support DDR4 modules from ATP?
Yes. Each of the latest Intel® Xeon® Scalable processors with Intel® C620 Series Chipsets (formerly code-named Skylake-SP and Lewisburg) provides native support for six memory channels that can operate at the same speed even at full load. Each memory channel supports two DIMMs, which means each processor can support up to 12 DIMMs. Having two additional memory channels compared with the previous quad-channel platform delivers a significant increase in speed and performance. Aside from Intel® Xeon® Scalable processors, DDR4-2666 is also built for 8th Gen Intel® Core™ Processors.
Which applications and industries will benefit most from DDR4-3200/2933/2666/2400?
The increased interface speed amplifies theoretical peak performance for the most critical computing applications in industries such as telecommunication infrastructures, networking storage systems, network-attached storage (NAS) servers, micro/cloud servers, and embedded systems like industrial PCs.
What DDR4 DIMM form factors are available from ATP Electronics?
Form Factor

Category

LRDIMM

RDIMM

UDIMM

UDIMM ECC

SO-RDIMM

SO-DIMM

SO-DIMM ECC

Mini-RDIMM

Mini-UDIMM

Mini-UDIMM ECC

Data Rate Speed (MT/s)

3200

2933

2666

2400

2133

2400

2133

3200

2933

2666

2400

2133

2400

2133

PCB Height

Low profile

VLP: 0.74" height

VLP option: 0.74" height

ULP option: below 0.74" height

VLP option: 0.74" height

VLP option: 0.74" height

Density

32 GB

64 GB

128 GB

4 GB

8 GB

16 GB

32 GB

64 GB

128 GB

2 GB
4 GB

8 GB

16 GB

32 GB

4 GB

8 GB

16 GB

32 GB

2 GB
4 GB

8 GB

16 GB

32 GB

4 GB

8 GB

16 GB

32 GB

Voltage

1.2V

Working Temperature

Wide Temp: -40-95°C

Commercial Grade: 0-85°C

Golden Finger

30µ
Table 3. ATP DDR4 product family
How will I know if my system supports DDR4? Can I install a DDR4 DIMM on a DDR3 slot?
Every DDR generation is different from the others. DDR4 is not backward-compatible with DDR3 so a DDR4 DIMM will not fit on a DDR3 DIMM slot. Not only is the key notch of each DDR generation different (please refer to Figure 1 above), but the DDR4 pin size and arrangement is different from DDR3. Notice that towards the middle of the DDR4 module, some pins are longer, giving it a slightly curved "V" shape. Refer to your motherboard documentation to make sure that it has the correct DDR4 slot.

Figure 3. A standard DDR4 ECC DIMM module from ATP. Pins in the middle are longer, giving the module a slightly curved "V" shape.
How can I choose which DIMM type to use on my system?
Different DIMM types serve several purposes. DIMMs may or may not have error correcting code (ECC/non-ECC). They could be unbuffered or fully buffered (UDIMM/FB-DIMM), registered (RDIMM), or load-reduced (LR-DIMM). Different systems platforms can accommodate different memory types, so make sure to check which DIMMs are supported on your motherboard. For a quick look at common memory types, read "Understanding RAM and DRAM Computer Memory Types" on the ATP Blog.
Is it possible to combine DIMMs with different data rates on the same system?
To get the best memory performance, it is recommended that you install identical DIMMs on the same system. When mixing DIMMs of different operating speeds, the motherboard will underclock the faster one so it will only run at the speed of the slowest DIMM, unless you overclock the slow DIMMs. DIMM population guidelines may vary depending on the platform you are using. Refer to the server motherboard documentation for detailed instructions.