The ATP industrial e.MMC (Embedded MultiMediaCard) solution is designed to meet the high-performance data transfer and storage requirements of industrial and embedded applications in space-constrained systems requiring rugged reliability and very high endurance.
Compliant with the latest JEDEC e.MMC v5.1 specifications, the ATP e.MMC is an embedded storage solution consisting of an MMC interface, flash memory and controller integrated in the same IC package and offered in a 153-ball fine pitch ball grid array (FBGA) package. The integrated package simplifies the application interface design, making the ATP e.MMC suitable for industrial applications requiring rugged endurance, reliability and durability in challenging operating environments.
While several module houses and manufacturers already have their own versions of industrial e.MMC, each one claiming to offer the best features and benefits, the ATP e.MMC is backed by over 25 years of ATP's pioneering expertise in manufacturing flash memory and storage products.
As shown in the figure below, ATP e.MMC's strengths are not only about the product itself, but the ATP name that backs it up.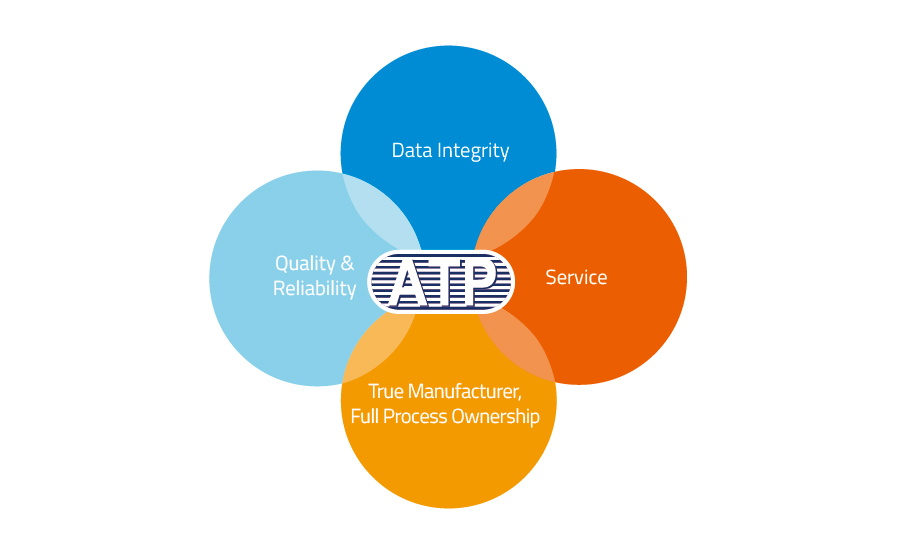 Figure 1. The ATP e.MMC promises data integrity, quality and reliability, along with ATP services that are tailor-fitted according to customers' needs. As a true manufacturer, ATP is fully in charge of the manufacturing processes after the wafers are received and can therefore control quality, product support and longevity.
Data Integrity
Data integrity refers to the reliability and accuracy of data over the entire usage life of the storage device. To ensure that there is no loss in data quality when using an ATP e.MMC device, it employs the following built-in technologies.
Configurable SRAM Soft Error Detector and Recovery Mechanism
Soft errors in the static random access memory (SRAM) corrupt memory bits and alter stored data or change instructions in a program. They do not cause physical damage to the memory or storage device, but will cause damage to the data.
Although usually remedied by a system cold boot, unattended SRAM soft errors can significantly jeopardize data accuracy because these errors cannot be detected nor solved by ECC engines, so the system will keep using the error data to run the system until catastrophic damage occurs. These errors are of great concern especially in mission-critical applications, where high levels of data integrity and availability are required.
The ATP e.MMC features an advanced SRAM Soft Error Detector and Recovery mechanism, which maximizes data integrity by providing timely error detection, logging, and configurable* action to address the error. If, after assessing the risk, the user opts to continue running the device, an error log will be created and a system reboot should be performed to avoid unpredictable events that could damage the system, or worse, cause personal safety risks in critical autonomous applications.
Note: The configuration setting is predetermined by the customer with ATP and is done before product shipment. Configuration cannot be changed on the field.
AutoRefresh Technology improves the data integrity of read-only areas by monitoring the error bit level and read- counts in every read operation. It detects when the read count is about to exceed the threshold. Before the limit is reached, data in the affected block is copied to a healthy block, thus preventing the controller from reading blocks with too many error bits. With this technology, the ATP e.MMC performs reliably and prevents uncorrectable data damage.
Dynamic Data Refresh Technology reduces the risks of read disturb and sustains data integrity in seldom-accessed areas. Read disturb happens when frequent reading of a cell causes adjacent cells to change or be programmed. Dynamic Data Refresh runs automatically in the background, sequentially scanning the user area flag record while the ATP e.MMC is free from host commands, thus keeping data safely stored without affecting the read/write operation.

Figure 2. Data refresh algorithm prevents Read Disturb errors by moving data to a healthy block when the read count exceeds the threshold.
Product Quality and Reliability
Industry-Leading NAND Screening Capability
With over 25 years' experience in the NAND flash product industry, ATP is thoroughly knowledgeable in NAND characterization. ATP believes that high-quality components are the building blocks to high-quality products and makes sure that screening begins at the integrated circuits (IC) level, where NAND flash is screened for temperature tolerance, data retention, disturbance, and other attributes.
Extreme Endurance: 2-3X Higher than Standard e.MMC
One reliable way of measuring flash storage endurance is by the number of write and erase operations, also called program/erase (P/E) cycles. At mass production stage, Rapid Diagnostic Test (RDT) is performed to screen out weak ICs for early life failure and to ensure long endurance with robust components. Stringent NAND flash sorting and screening during thermal cycling tests, functional tests, robust product design, and high-quality wafer packaging ensure high P/E cycles, healthy memory storage, and the long product service life of the ATP e.MMC.
ATP e.MMC is available in industrial temperature-rated operating range, performing dependably in sub-freezing -40°C to searing 85°C. Sturdy and resilient, the ATP e.MMC can withstand harsh environments and extreme temperatures, as well as power and thermal cycling in demanding operation scenarios.

Figure 3. ATP e.MMC operates within full industrial temperature range.
ATP as a True Manufacturer: Full Process Ownership
ATP maintains complete control of all stages of the manufacturing process — from the time the wafers are received all the way up to the finished product. ATP performs in-house testing, quality control, Rapid Diagnostic Test (RDT) and in-house field application (FA) to provide customers nothing less than the best products. By taking charge and ownership of the processes, ATP also maintains control of its supply and value chains. We implement controlled bill of materials (BOM) with longevity planning and maintain buffer inventory to prevent stock outs.


Figure 4. ATP Process Ownership
ATP-Owned Manufacturing Facilities
The ATP e.MMC is designed, produced and tested thoroughly at ATP's own purpose-built factory with top-notch engineers and highly skilled production staff using the most modern equipment along with exclusive ATP-designed firmware and testing platforms.
Post-Manufacturing Process Excellence
No doubt, each ATP e.MMC is manufactured to the highest and most stringent standards to make sure that it meets the rigid requirements of industrial applications. The ATP culture of excellence, however, extends after the product is finished. Further processes are taken to ensure that each product coming out of ATP's manufacturing facilities meet and even exceed expectations.
Below is a sneak peek into the meticulous processes that the ATP e.MMC goes through before it is shipped out.
Ensuring Product Traceability

Laser imprints important information to identify each piece for accurate tracking and efficient inventory management.

Rapid Diagnostic Test (RDT)

RDT is performed to evaluate product reliability under extreme temperatures and to catch early and latent defects.

ATP e.MMC devices are loaded into a specially designed RDT chamber for thermal cycling tests at both low (-40°C) and high (85°C) temperatures. ATP can perform high-volume testing according to customer request.

Automated Final Screening

A special machine performs high-speed automated initialization and screening to make sure that errors and failed parts not caught during the production stage are effectively screened out before the product is packaged.

Protective Packaging

Finally, the ATP e.MMC is vacuum-sealed, removing all the air from the packaging, including humidity and moisture that could cause corrosion. Vacuum packaging also safeguards the ATP e.MMC against environmental hazards that could cause damage while the devices are stored or in transit.
Service
ATP delivers total solutions by manufacturing not only best-in-class products, but also offering top-notch services. By project support and customer request, ATP offers value-added services such as Joint Validation, where ATP conducts compatibility and function tests with client-supplied host devices and systems to proactively detect and minimize failures that may not have been caught in production tests. ATP also guarantees long product cycles with a longevity commitment of over 5 years for MLC NAND-based e.MMC.
Find out how the industrial e.MMC and other ATP flash memory and storage products can meet your diverse data storage requirements. Visit the ATP website or contact an ATP Representative/Distributor.