NVMe vs. SATA: It's Time for NAND Flash in the Fast Lane
The deluge of data being created every day shows no sign of abating. As users create more and more data, we will not only need space to store it, but also higher throughput and faster response times to access data.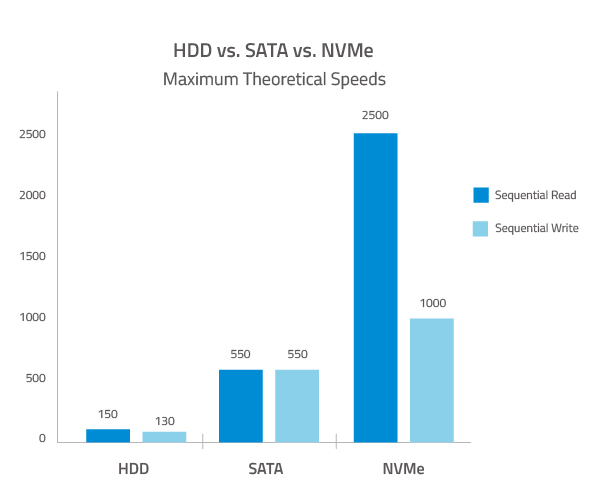 Over the years, CPU and DRAM technologies have been continually improving and increasing speeds to meet escalating data-hungry requirements. Mechanical storage drives such as hard disk drives and the interfaces connecting them, however, have trailed behind. Compounding the problem is that the faster, higher-capacity solid state drives (SSDs) today still widely use interfaces designed for slower mechanical drives.
Serial ATA (SATA™) is generally the least expensive and most extensively used SSD interface today. However, its latest generation is already almost a decade old, and its transfer rate is capped at 6 Gb/s. SATA uses the legacy protocol Advanced Host Controller Interface (AHCI), to connect the CPU/memory subsystem. AHCI was optimized for rotating media, resulting in high latency when used with faster storage solutions that do not have mechanical parts, such as SSDs. SATA does not support high levels of expansion, as most servers can accommodate fewer than six SATA devices.
To narrow the widening gap between fast CPU/DRAM and slow storage, Non-Volatile Memory Express or NVM Express®, also known as NVMe™, was developed by leading technology manufacturers.
NVMe™ in a Flash
NVMe™ is an interface specification developed specifically for NAND flash and next-generation SSDs. This interface leverages existing PCI Express® (PCIe®) technology to efficiently support the growing bandwidth needs of enterprise and client systems.
Although PCIe basically functions as an interconnect linking motherboard-mounted peripherals like graphics or wireless network cards, its suitable high-bandwidth bus technology is ideal for today's fastest SSDs.
Flash at PCIe Speeds
One great feature of PCIe is its direct connection to the CPU. This streamlines the storage device stack, completely eliminating much of the complexity and layers present in SATA protocol stacks. As a result, NVMe delivers 2X the performance of SAS 12 Gb/s, and 4-6X of SATA 6 Gb/s in random workloads. For sequential workloads, NVMe delivers 2X the performance of SAS 12 Gb/s, and 4X of SATA 6 Gb/s.
(Source: "All About M.2 SSDs," Storage Networking Industry Association [SNIA]. 2014.)
By taking advantage of PCIe, NVMe reduces latency, enables faster access, and delivers higher Input/Output per Second (IOPS) compared with other interfaces designed for mechanical storage devices. NVMe also offers performance across multiple cores for quick access to critical data, scalability for current and future performance and support for standard security protocols.
ATP NVMe Solutions: Built for the Fast Lane
ATP Electronics responds to the clamor for acceleration in enterprise and mission-critical environments with its NVMe-based M.2 2280 SSDs. Designed for a PCIe 3.0 x4 interface and complying with NVMe 1.2 specifications, ATP NVMe SSDs boast up to 1 TB memory capacity, sequential read speed of up to 2,540 MB/s, and sequential write speeds up 1,100 MB/s. ATP NVMe solutions also integrate 3D NAND MLC technology, enabling higher memory capacity, lower cost per bit, and increased longevity.
HDD vs SATA vs. NVMe
The table below shows a comparison of HDD, SATA SSD and NVMe SSD. NVMe, as a protocol designed specifically for PCIe SSDs, delivers better performance than PCIe and SATA SSDs using the AHCI protocol.
Interface

PCIe

SATA 6 Gb/s

Protocol

NVMe Protocol
(Optimized for flash SSDs)

AHCI Protocol
(Optimized for mechanical HDDs)

Bandwidth

PCIe x2 or x4 lane

PCIe x2 or x4 lane

SATA 6 Gb/s

Form Factor

M.2/PCIe Expansion Card/U.2

M.2/PCIe Expansion Card

M.2/2.5" SSD

Max. Read Performance

>3000MB/s

>2000MB/s

>500MB/s

Max. Write Performance

>2000MB/s

>1500MB/s

>500MB/s
Table 1. Comparison of NVMe and SATA 6 Gb/s.
The following table compares bandwidths by generation. ATP's M.2 NVMe SSD is designed for a PCIe 3.0 interface and fits in a x4 lane, delivering up to 7.9 Gb/s transfer rate and up to 3.9 GB/s throughput.
PCIe

SATA

Generation

Transfer Rate

Throughput per Lane

Generation

Transfer Rate

Throughput

Gen1

2.5 Gb/s

x1: 250 MB/s

x4: 1 GB/s

Gen1

1.5 Gb/s

150 MB/s

Gen2

4.9 Gb/s

x1: 500 MB/s

x4: 2 GB/s

Gen2

3 Gb/s

300 MB/s

Gen3

7.9 Gb/s

x1: 984.6 MB/s

x4: 3.9 GB/s

Gen3

6 Gb/s

600 MB/s

Gen4

15.8 Gb/s

x1: 1,969 MB/s

x4: 7.8 GB/s
Table 2. Bandwidth Comparison of PCIe and SATA.
The following figure shows that while SATA delivers 4X the performance of mechanical HDDs, NVMe trumps SATA with 5X the sequential read and write performance, enabling the fastest performance and maximum theoretical speeds over any other storage protocol.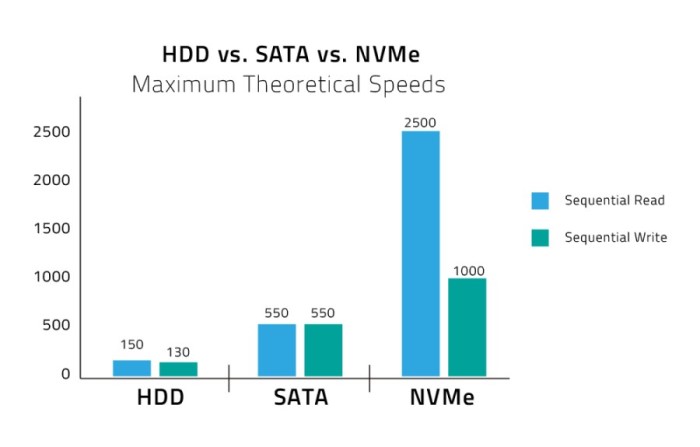 Figure 1. Maximum Theoretical Speed Comparison of HDD, SATA SSD and ATP NVMe SSD.