Industrielle Produktlinie
Flash Products Naming Rule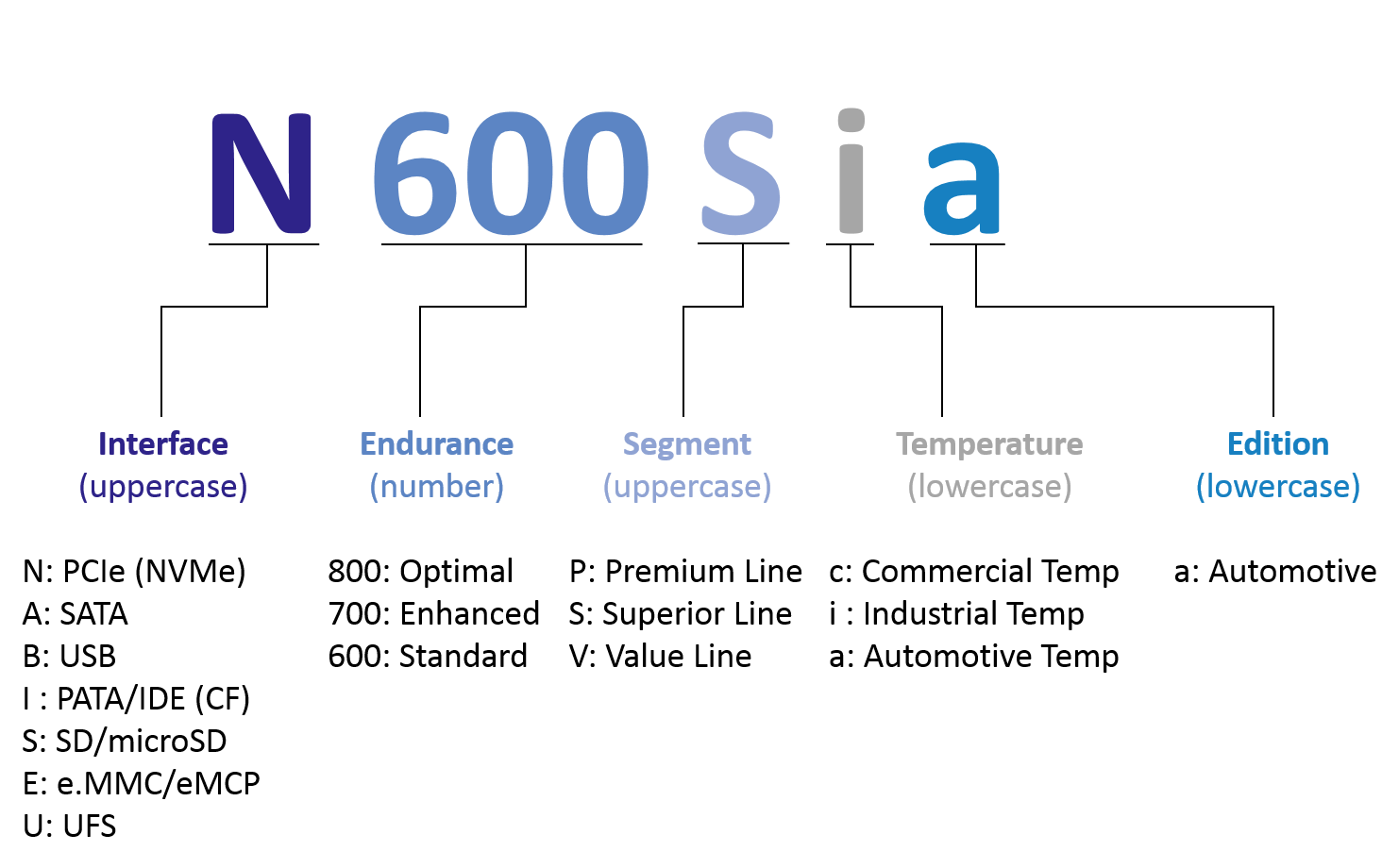 Flash Product Line & DRAM Introduction
Premium Line
The ATP Premium Line consists of mass storage solutions built for uncompromising performance, maximum dependability, and exceptional endurance. Outfitted with best-in-class technologies ensuring the highest levels of reliability, these solutions are hardwired for the most demanding mission-critical applications where system failures or interruptions can significantly impact operations. With industrial temperature ratings of -40°C to 85°C, these rugged solutions can withstand harsh operating environments and extreme temperatures. Unparalleled usage life and brisk write speeds set the Premium Line a cut above the rest. High input/output operations per second (IOPS) ensure consistently high performance, and PowerProtector Technology guarantees that data in transit are safely stored to the flash chip in the event of a power loss, thus safeguarding data integrity, averting data loss or corruption, and preventing device damage.
Superior Line
The ATP Superior Line brings together powerful and proven features and technologies for rigorous operations in diverse industries, capably handling mixed workloads with high IOPS requirements. Generous storage densities make these products ideal for data-hungry and write-intensive applications; mid-density drive options offer a wider range of choices for cost efficiency; and, configurable over-provisioning gives users flexibility to make adjustments based on actual workloads for the optimal balance between drive performance and endurance. ATP Superior Line products are available in both industrial temperature (-40°C to 85°C) and commercial temperature ratings (embedded SSD: 0°C to 70°C; SD/microSD card: -25°C to 85°C), so users can choose the temperature range most appropriate for their needs.
Value Line
The ATP Value Line integrates advanced essential solutions to the growing needs of enterprises and industries, offering sustained, reliable performance and consistent reliability. Superb choices as embedded boot or boot image devices, they are ideally suited for Internet of Things (IoT) applications, spurring greater connectivity for homes, cars, medical equipment, and other smart devices. Ample storage capacity is available for installing an operating system with space to spare for other applications.
Automotive Edition
The ATP Automotive Edition consists of tailor-made solutions to meet automotive customers' requirements for maximum data reliability. These solutions undergo the strictest levels of testing and are certified according to automotive-industry standards, including but not limited to IATF-16949 Certification, APQP, PPAP, IMDS, AEC-Q100, product selection/features and joint validation tests depending on project support and according to customer request.
Flash Produkt Technologie
* Customization option available on a project basis.
Technologie
Beschreibung

Life Monitor

Provides a user-friendly interface for monitoring the health status and life expectancy of a flash product.

* Compatibility and support may vary by platform or operating system.

Sudden Power-Off Recovery (SPOR)

The Sudden Power-Off Recovery (SPOR) firmware-based power failure protection effectively protects data written to the device prior to power loss. After the host receives a signal from the device that the WRITE operation has been successfully completed, newly written as well as previously written data are protected even if a sudden power loss occurs.

AutoRefresh

Monitors the error bit level in every operation. Before the error bit in a block reaches or exceeds the preset threshold value, AutoRefresh moves the data to a healthy block, thus preventing the controller from reading blocks with too many error bits and averting read disturbance and data corruption.

Vibration-Proof BGA Package

The ATP e.MMC comes in a 153-ball fine pitch ball grid array (FBGA) package and is soldered directly to the printed circuit board, making it resistant against vibrations for reliable performance even during grueling operations.

Dynamic Data Refresh

Runs automatically in the background to reduce the risk of read disturbance and sustain data integrity in seldom-accessed areas by sequentially scanning the user area flag record without affecting the read/write operation. The data that has been completely moved to another block will be read and compared with the source data to ensure data integrity.

Industrial Temperature

Operational stability in extreme temperatures from -40°C to 85°C.

SiP (System in Package)

Manufacturing process that encapsulates all exposed components to provide protection and shielding.

Complete Drive Test

For NAND flash storage products, the entire drive, including firmware, user and spare areas, is thoroughly tested to ensure that there are no bad blocks. DRAM products also undergo complete testing, covering PHY and controller, including meta/mapping and data caching areas.

End-to End Data Protection

Ensures error checking and correction as data moves from the host to the storage device controller and vice versa. By covering the entire data path, end-to-end protection guarantees integrity at any point during data transfer.
DRAM Mehrwert
* Customization option available on a project basis.
| Technologie | Beschreibung |
| --- | --- |
| Thicker Gold Finger | 30µ"-thick gold plating of the DRAM contact optimizes signal transmission quality between the connector and DRAM modules. |
| Test During Burn-In (TDBI) | Components are subjected to low and elevated temperatures within an enclosed chamber to detect failure as a result of high-failure rates in the early life failure (ELF) period. |
| Industrial Temperature | Operational stability in extreme temperatures from -40°C to 85°C. |
| Anti-Sulfur Resistors | ATP DRAM modules and NAND flash storage products offer an anti-sulfur resistor option to prevent the corrosive effects of sulfur contamination, guaranteeing continued dependable performance for a long time. |
| Conformal Coating | Protects electronic circuits with a coating of the chemical compound Parylene to resist dust, chemical contaminants, extreme temperature, moisture and corrosion. |
| Complete Drive Test | For NAND flash storage products, the entire drive, including firmware, user and spare areas, is thoroughly tested to ensure that there are no bad blocks. DRAM products also undergo complete testing, covering PHY and controller, including meta/mapping and data caching areas. |
Kontaktieren Sie uns