Solutions to Unique Challenges
Systems on public vehicle transportation are advancing to an era of connectivity. From safety, monitoring, and telematics to passenger infotainment, higher computing and vaster data all now aim to be connected or even remotely managed, while all-terrain, all-weather, and unstable power supply challenges still remain musts to answer for both system designers and storage solutions.
ATP, with core competitiveness in endurance, longevity, wide-temp, fix BOM control, presents ideal industrial flash and memory solutions for public transport systems.

Unique Challenges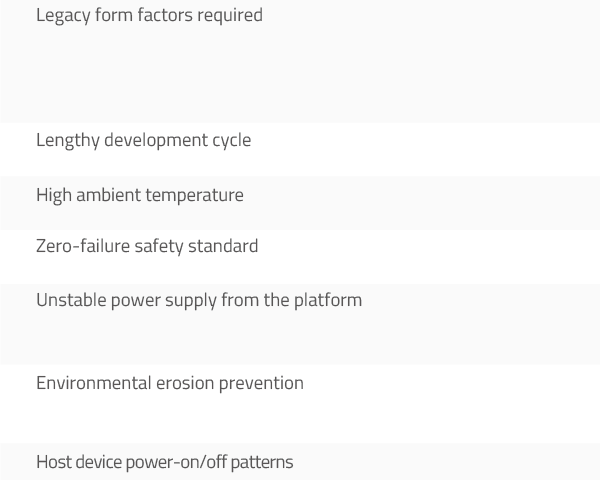 ​
Solutions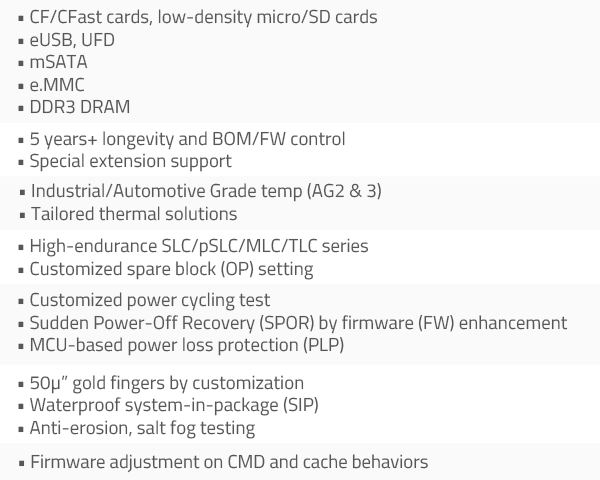 ​
Railway systems are known to be ruggedized to overcome challenging operational environments and are required to pass strict railway certifications. Meanwhile, memory and flash storage onboard systems must also meet features including extra endurance, wide/extreme temperature, anti-shock/humidity/dust, and power loss protection.
Besides the above common challenges, railway systems are often quite diverse in designs and must go through a lengthy validation or deployment cycle, making validated key components less popular types to acquire. They especially need support on legacy types with extra longevity from a specialized supplier like ATP.

Unique Challenges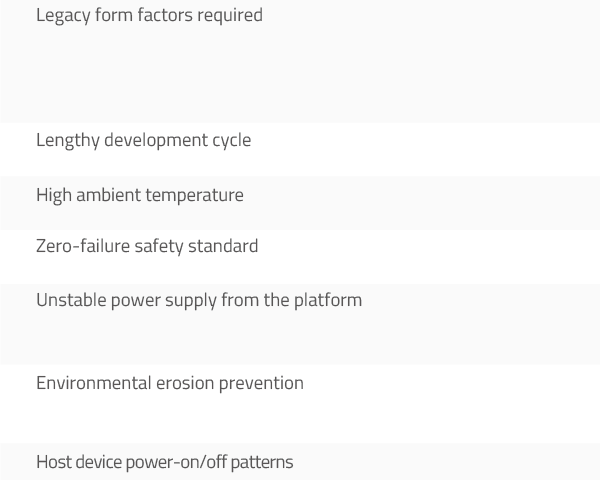 ​
Solutions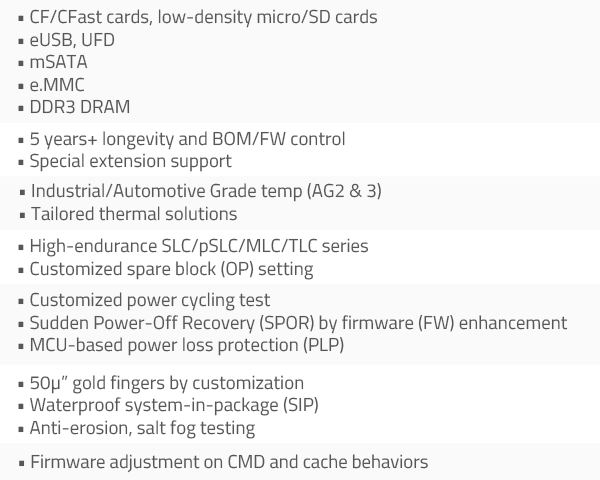 ​
Transportation infrastructure, whether roadway, railway, or waterway traffic, has been progressing to keep up with the rising 5G and autonomous trend aiming for smarter public traffic safety or service, while legacy deployment still shoulders significant roles due to budgetary concerns.
ATP, as a specialized memory and flash storage provider, offers legacy industrial solutions, extra longevity, and rigorous quality control on top of the industrial specification. We ride a long way with manufacturers of traffic systems.

Unique Challenges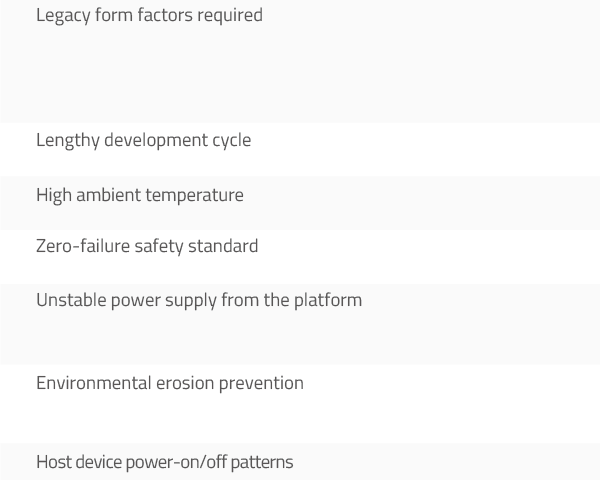 Solutions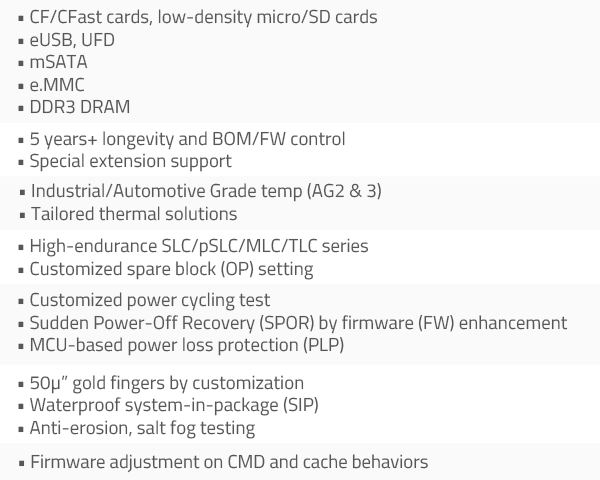 Featured Technologies

Anti-Sulfur Resistors
ATP DRAM modules and NAND flash storage products offer an anti-sulfur resistor option to prevent the corrosive effects of sulfur contamination, guaranteeing continued dependable performance for a long time.

Conformal Coating
Protects electronic circuits with a coating of the chemical compound Parylene to resist dust, chemical contaminants, extreme temperature, moisture and corrosion.

Thicker Gold Finger
30µ"-thick gold plating of the DRAM contact optimizes signal transmission quality between the connector and DRAM modules.

Hardware-based Power Loss Protection
This hardware-based power failure protection prevents data loss during a power loss event by ensuring that the last read/write/erase command is completed and data is stored safely in non-volatile flash memory. Select NVMe modules and SATA SSDs feature a new microcontroller unit (MCU)-based design that allows the PLP array to perform intelligently in various temperatures, power glitches and charge states to protect both device and data.

Firmware-based Power Loss Protection
The firmware-based power failure protection effectively protects data written to the device prior to power loss. After the host receives a signal from the device that the WRITE operation has been successfully completed, newly written as well as previously written data are protected even if a sudden power loss occurs.
Recommended Products
DDR3
DIMM Type
RDIMM
ECC UDIMM
Non-ECC UDIMM
ECC SO-DIMM
Non-ECC SO-DIMM
Mini-RDIMM
Mini-UDIMM
Density
1 GB to 16 GB
1 GB to 16 GB
1 GB to 16 GB
1 GB to 16 GB
1 GB to 16 GB
1 GB to 8 GB
1 GB to 8 GB
Speed up to (MT/s)
1866
1866
1866
1866
1866
1600
1600
PCB Height*
Low profile / VLP / ULP
Low profile / VLP / ULP
Low profile / VLP
Low profile / ULP
Low profile
Low profile / VLP / ULP
Low profile / VLP / ULP
Operating Temperature
0°C to 85°C / -40°C to 85°C
0°C to 85°C / -40°C to 85°C
0°C to 85°C / -40°C to 85°C
0°C to 85°C / -40°C to 85°C
0°C to 85°C / -40°C to 85°C
0°C to 85°C / -40°C to 85°C
0°C to 85°C / -40°C to 85°C
* VLP: 0.74", ULP: below 0.74"
Download Attachment
ATP USB Drive product flyer

ATP CFast card product flyer

ATP eUSB product flyer

ATP CF card product flyer

ATP DDR3 product flyer
---
Can't decide on a product?
Discuss with our Memory & Storage Experts
Read more
Contact Us