Solutions to Unique Challenges
Growing demand for higher computing network appliances at the edge, such as RU and DU for scaling virtualization deployment, is driven on by the Open Radio Network structure in the 5G era. Telco/ISPs are struggling to provide higher SPEC DRAM/NAND storage at the edge due to a lack of chassis space, fluctuating temperatures, and environmental erosions.
With its expertise in co-design and validation, ATP meets the demand for hardware and software design that must adhere to stringent service level commitments.

Unique Challenges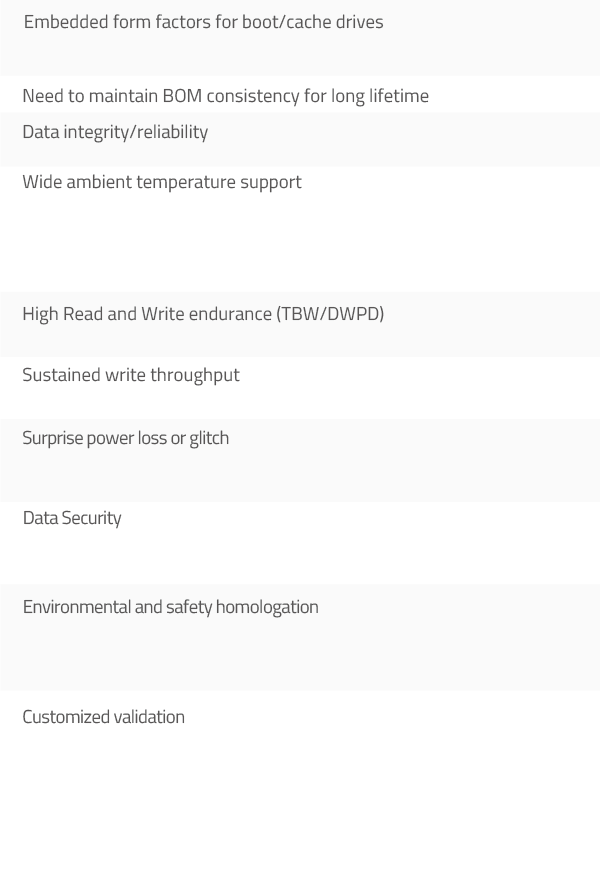 Solutions
​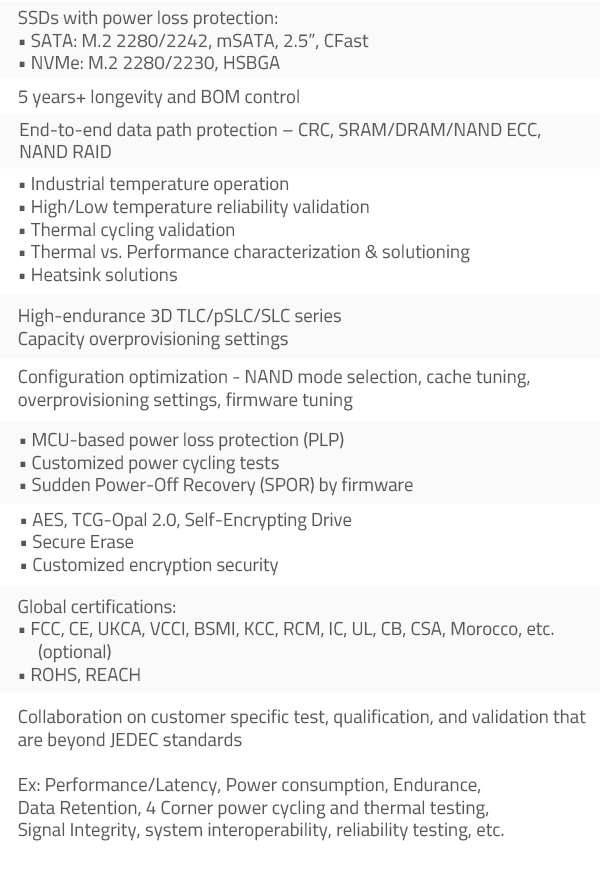 Nowadays, the heart of virtually all industries is networking and cybersecurity, encompassing a variety of network-related appliances. Together, ATP builds solutions that drive toward greater computing that upscales software defined solutions for providers across the board, including gateway, UTM, NGFW, managed switch, and all sorts of servers.
Today, over 70% of companies listed on Gartner's Magic Quadrant report for Primary Storage, Data Center and Cloud Computing, and WAN-Edge Infrastructure consider ATP as a strategic supplier.

Unique Challenges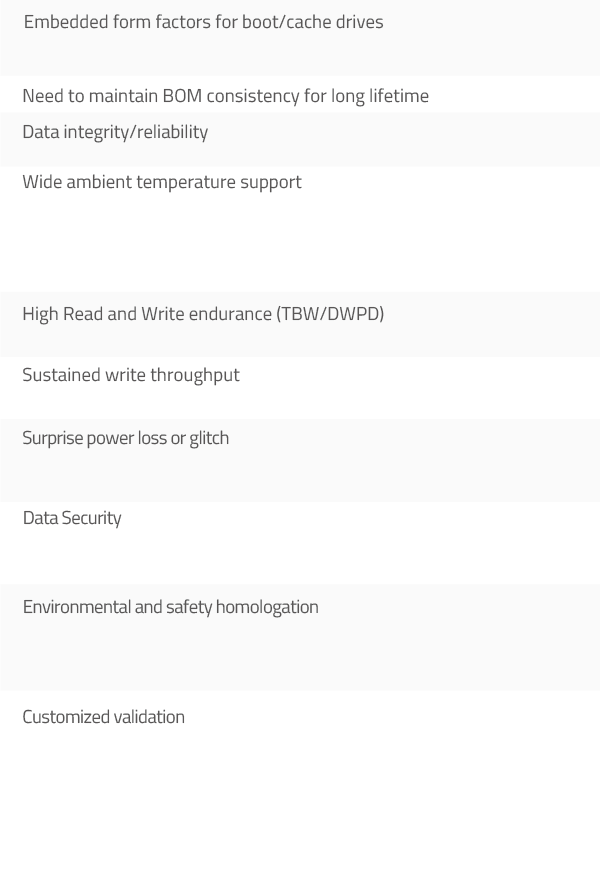 ​
Solutions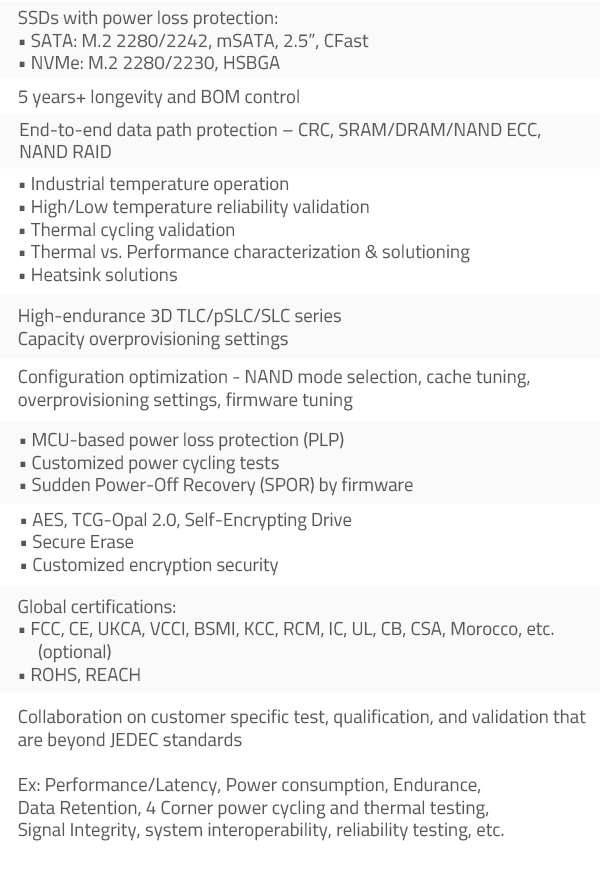 ​
While experiencing exponential expansion, storage server and cloud service providers also confront difficulties with data integrity, reliability, and other factors that are crucial to perpetual up-time. Boot drives, server DRAM, and other uncommon embedded form factors are areas of expertise for ATP.
Today, ATP is regarded as a strategic supplier by more than 70% of the businesses included in Gartner's Magic Quadrant reports for Primary Storage, Data Center and Cloud Computing, and WAN-Edge Infrastructure.

Unique Challenges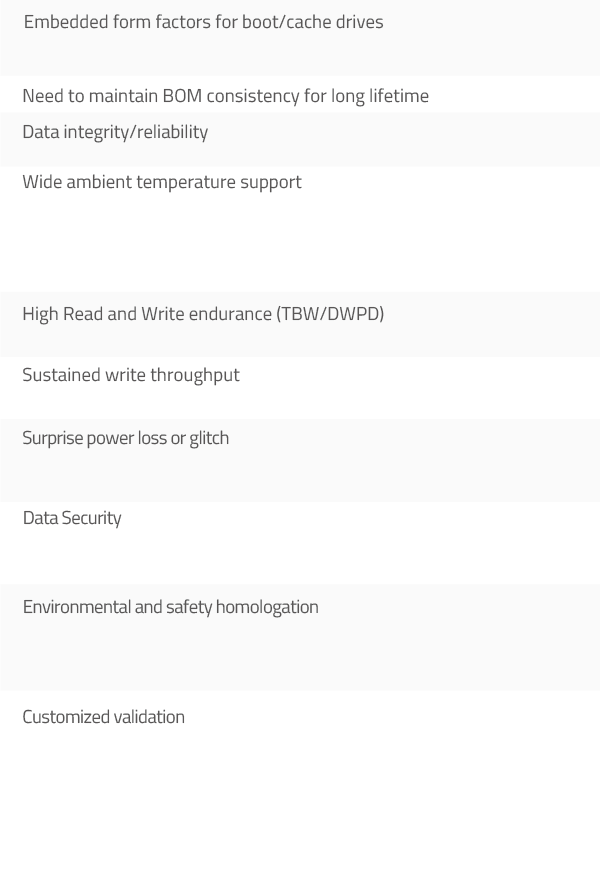 ​
Solutions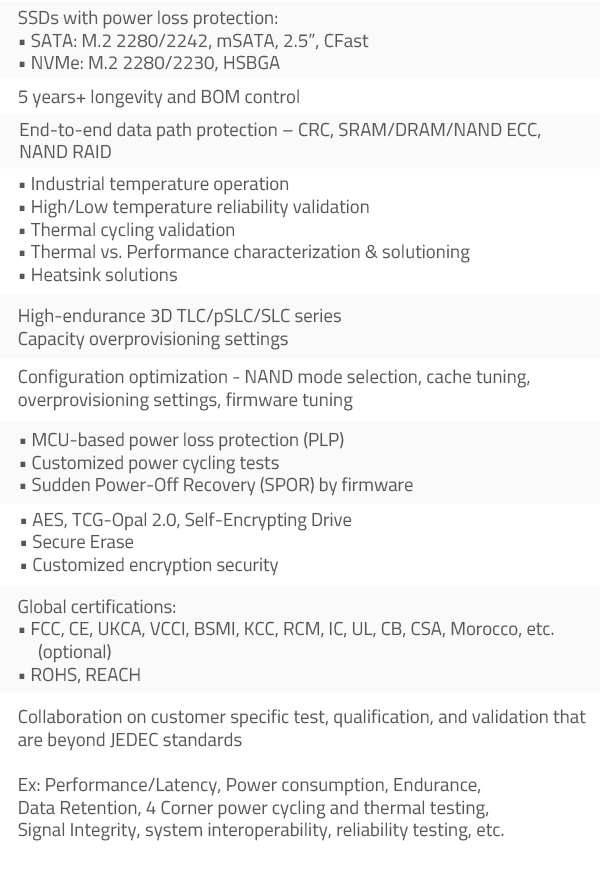 ​
From Whitebox uCPE makers to turnkey solution providers, the SD-WAN industry has struggled to strike a balance between ideal OPEX and practical CAPEX. An achievable OPEX within the service level agreement is ensured by a better endurance DRAM/NAND at a reasonable cost.
Today, leading SD-WAN solution providers consider ATP as a strategic supplier, we'd like to show you why

Unique Challenges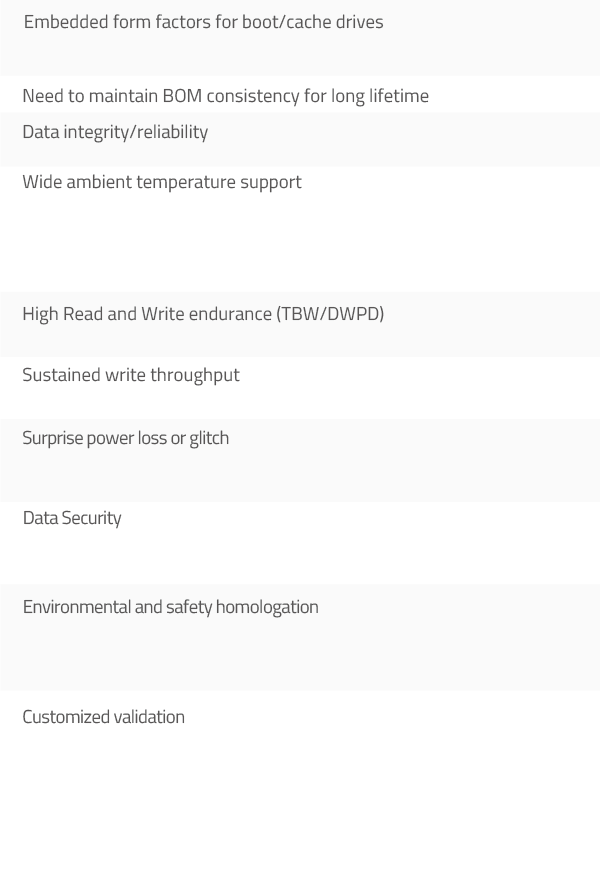 ​
Solutions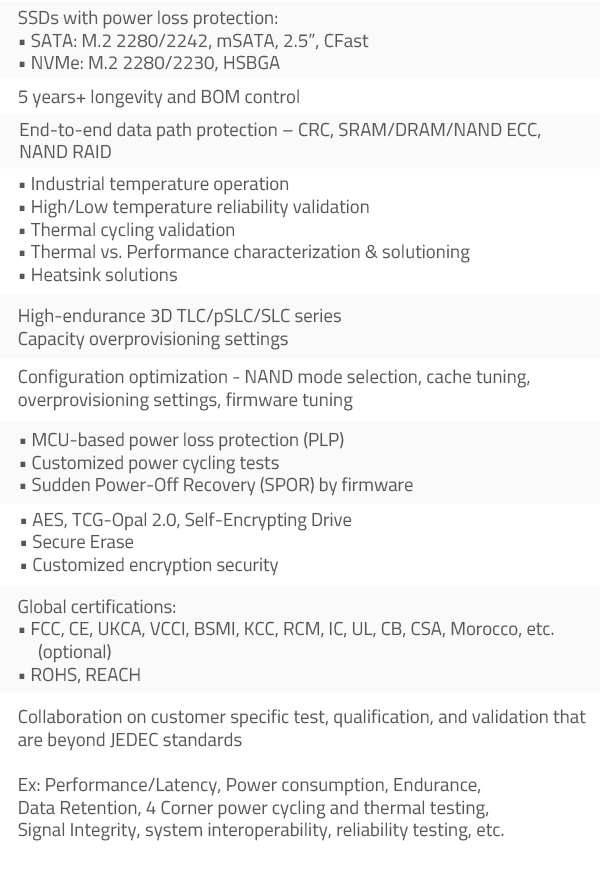 ​
Featured Technologies

End-to End Data Path Protection
Ensures error checking and correction as data moves from the host to the storage device controller and vice versa. By covering the entire data path, end-to-end protection guarantees integrity at any point during data transfer.

Industrial Temperature
Operational stability in extreme temperatures from -40°C to 85°C.

Hardware-based Power Loss Protection
This hardware-based power failure protection prevents data loss during a power loss event by ensuring that the last read/write/erase command is completed and data is stored safely in non-volatile flash memory. Select NVMe modules and SATA SSDs feature a new microcontroller unit (MCU)-based design that allows the PLP array to perform intelligently in various temperatures, power glitches and charge states to protect both device and data.

Firmware-based Power Loss Protection
The firmware-based power failure protection effectively protects data written to the device prior to power loss. After the host receives a signal from the device that the WRITE operation has been successfully completed, newly written as well as previously written data are protected even if a sudden power loss occurs.

Wide Temp DRAM Modules
These modules use unique ATP testing and technologies to enable support for industrial temperature operating ranges from -40°C to 85°C but at lower price points than modules with native industrial grade ICs.

Test During Burn-In (TDBI)
TDBI involves subjecting ATP DRAM modules to various temperatures, power cycling, voltages and other stress conditions within a certain period. It aims to cause weak ICs to fail so they can be screened out, thus making sure that the modules contain only the most robust ICs.

Anti-Sulfur Resistors
ATP DRAM modules and NAND flash storage products offer an anti-sulfur resistor option to prevent the corrosive effects of sulfur contamination, guaranteeing continued dependable performance for a long time.

Conformal Coating
Protects electronic circuits with a coating of the chemical compound Parylene to resist dust, chemical contaminants, extreme temperature, moisture and corrosion.

SecurEncrypt
AES-256 encryption for the User Data area.

TCG Opal
Plus other features defined for data storage devices by the Trusted Computing Group.

Complete Drive Test
For NAND flash storage products, the entire drive, including firmware, user and spare areas, is thoroughly tested to ensure that there are no bad blocks. DRAM products also undergo complete testing, covering PHY and controller, including meta/mapping and data caching areas.
Recommended Products
DDR4
DIMM Type
RDIMM/LRDIMM
ECC UDIMM
Non-ECC UDIMM
ECC SO-DIMM
Non-ECC SO-DIMM
Mini-RDIMM
Mini-UDIMM
Density
4 GB to 128 GB
4 GB to 32 GB
2 GB to 32 GB
4 GB to 32 GB
2 GB to 32 GB
4 GB to 32 GB
4 GB to 16 GB
Speed up to (MT/s)
3200
3200
3200
3200
3200
2400
2400
PCB Height*
Low profile / VLP / ULP
Low profile / VLP / ULP
Low profile / VLP / ULP
Low profile
Low profile
Low profile / VLP
VLP
Operating Temperature
0°C to 85°C / -40°C to 85°C
0°C to 85°C / -40°C to 85°C
0°C to 85°C / -40°C to 85°C
0°C to 85°C / -40°C to 85°C
0°C to 85°C / -40°C to 85°C
0°C to 85°C / -40°C to 85°C
0°C to 85°C / -40°C to 85°C
* VLP: 0.74", ULP: below 0.74"
Download Attachment
ATP M.2 SATA product flyer

ATP mSATA product flyer

ATP 2.5 SSD product flyer

ATP CFast card product flyer

ATP M.2 NVMe product flyer

ATP NVMe HSBGA product flyer

ATP DDR3 product flyer

ATP DDR4 product flyer
---
Can't decide on a product?
Discuss with our Memory & Storage Experts
Read more
Contact Us