Solutions to Unique Challenges
Memory and storage devices for defense systems require high reliability and long service life to capably handle the demands of mission-critical tasks over extended periods of time.
These devices typically operate in hostile environments and are subjected to severe physical, thermal, and electro-mechanical stresses. They are also usually exposed to power challenges, especially when deployed in areas where power is unstable.
System designs are highly diverse and proprietary without commercially high volume, requiring diverse form factors per individual case.
ATP Electronics provides a wide range of rugged, wide-temp solutions without a high minimum order quantity (MOQ), with outstanding longevity and flexible customization to comply with exacting standards.

Unique Challenges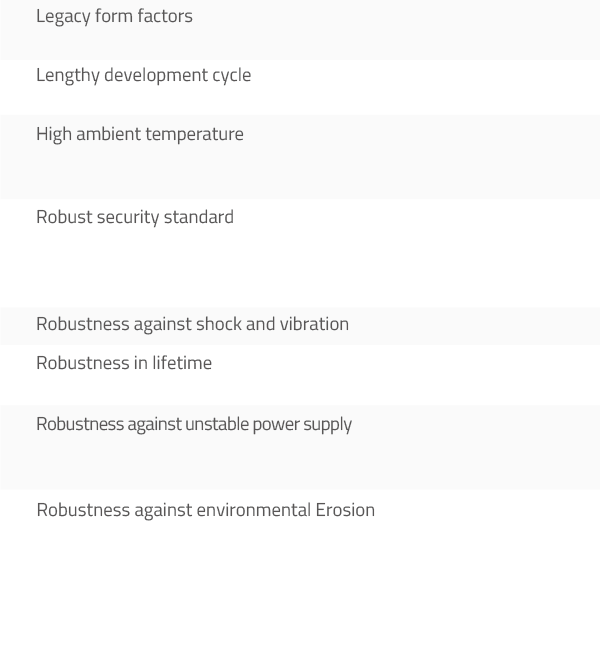 Solutions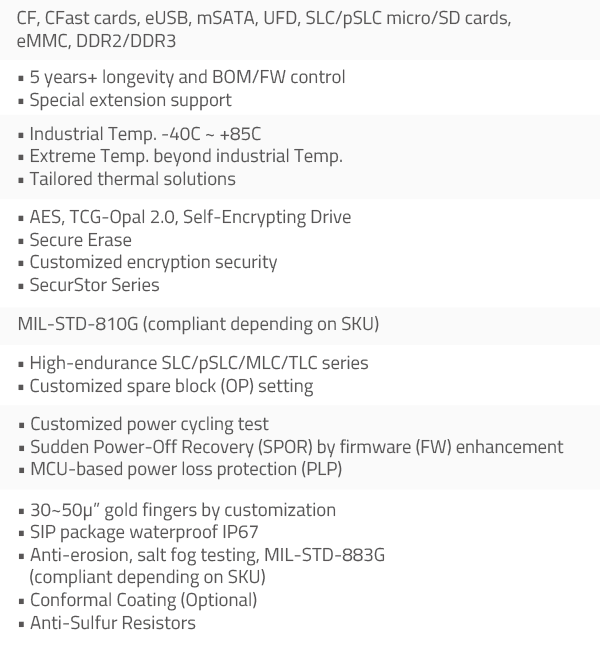 The Aerospace segment often stands shoulder to shoulder with Defense and share many of the same challenges, including extreme temperatures, shock/vibration, and harsh environments.
Whether in the air, in space, or in ground control, memory and storage devices are exposed to diverse hazards that can corrupt data, cause errors, and even compromise crew and passenger safety.
ATP Electronics specializes in optimizing memory and storage devices for the aerospace segment. ATP offers a comprehensive portfolio of ruggedized, robust, and high endurance solutions, without a high minimum order quantity (MOQ). These solutions include industrial grade, customizable, and commercial off-the-shelf (COTS) modules that are meticulously tested to meet specific application requirements.

Unique Challenges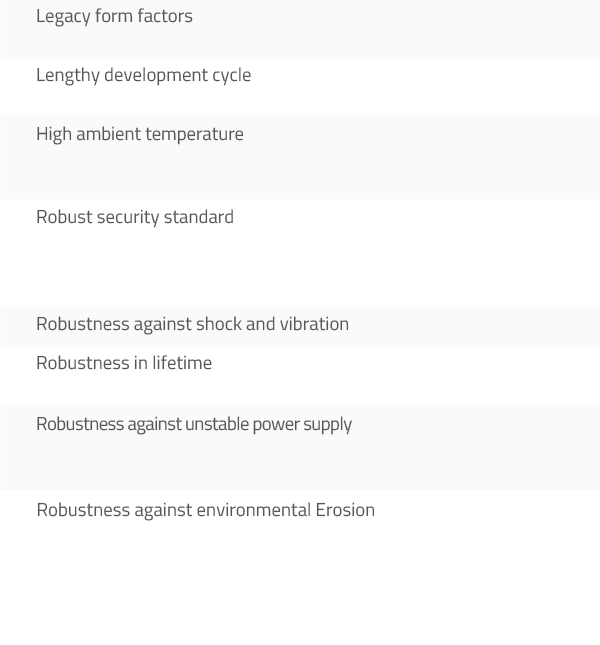 Solutions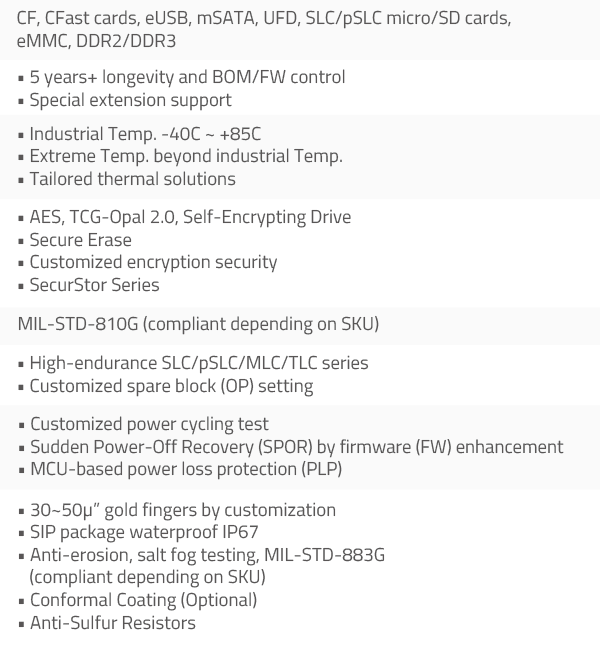 Featured Technologies

Anti-Sulfur Resistors
ATP DRAM modules and NAND flash storage products offer an anti-sulfur resistor option to prevent the corrosive effects of sulfur contamination, guaranteeing continued dependable performance for a long time.

Conformal Coating
Protects electronic circuits with a coating of the chemical compound Parylene to resist dust, chemical contaminants, extreme temperature, moisture and corrosion.

Thicker Gold Finger
30µ"-thick gold plating of the DRAM contact optimizes signal transmission quality between the connector and DRAM modules.

Hardware-based Power Loss Protection
This hardware-based power failure protection prevents data loss during a power loss event by ensuring that the last read/write/erase command is completed and data is stored safely in non-volatile flash memory. Select NVMe modules and SATA SSDs feature a new microcontroller unit (MCU)-based design that allows the PLP array to perform intelligently in various temperatures, power glitches and charge states to protect both device and data.

Firmware-based Power Loss Protection
The firmware-based power failure protection effectively protects data written to the device prior to power loss. After the host receives a signal from the device that the WRITE operation has been successfully completed, newly written as well as previously written data are protected even if a sudden power loss occurs.

TCG Opal 2.0
TCG Opal Secirity Subsystem Class (SSC) 2.0 is a set of specifications for self-encrypting drives that present a hierarchy of security management standards to secure data from theft and tampering. Security features include hardware-based data encryption, pre-boot authentication (PBA) and AES-128/256 data encryption to protect the confidentiality of data at rest.

Secure Erase
A sanitization solution made especially for SSDs and memory cards making sure that sensitive data is not recovered or retrieved if the SSD or memory card needs to be disposed or repurposed. By making sure that no remnant of sensitive data remains, Secure Erase is the ideal solution for government and business applications with intense security requirements.

SecurEncrypt
AES-256 encryption for the User Data area.

Industrial Temperature
Operational stability in extreme temperatures from -40°C to 85°C.
Recommended Products
DDR3
DIMM Type
RDIMM
ECC UDIMM
Non-ECC UDIMM
ECC SO-DIMM
Non-ECC SO-DIMM
Mini-RDIMM
Mini-UDIMM
Density
1 GB to 16 GB
1 GB to 16 GB
1 GB to 16 GB
1 GB to 16 GB
1 GB to 16 GB
1 GB to 8 GB
1 GB to 8 GB
Speed up to (MT/s)
1866
1866
1866
1866
1866
1600
1600
PCB Height*
Low profile / VLP / ULP
Low profile / VLP / ULP
Low profile / VLP
Low profile / ULP
Low profile
Low profile / VLP / ULP
Low profile / VLP / ULP
Operating Temperature
0°C to 85°C / -40°C to 85°C
0°C to 85°C / -40°C to 85°C
0°C to 85°C / -40°C to 85°C
0°C to 85°C / -40°C to 85°C
0°C to 85°C / -40°C to 85°C
0°C to 85°C / -40°C to 85°C
0°C to 85°C / -40°C to 85°C
* VLP: 0.74", ULP: below 0.74"
Download Attachment
ATP SD card product flyer

ATP USB Drive product flyer

ATP CF card product flyer

ATP CFast card product flyer

ATP microSD card product flyer

ATP mSATA product flyer

ATP DDR2 product flyer

ATP DDR3 product flyer

ATP eMMC product flyer

ATP_SecurStor_flyer_EN

ATP 9x10 eMMC product flyer
---
Can't decide on a product?
Discuss with our Memory & Storage Experts
Read more
Contact Us